So the market has come up quite a bit since last fall when I made a bunch of posts showing that the market was reasonably valued and there was too much pessimism. I think the market still looks and feels fine.
There are people who say it's getting bubbly and bullish consensus is too high, but I don't sense that too much at all. People still seem to be in denial about stocks.
I agree that we aren't out of the woods, but I think the market rally so far has just discounted the lower likelihood of a bad blowup in Europe. Sure, Greece is certainly not fixed. But as I have been saying here, a complete blowup/meltdown is off the table for now. Last fall, the market feared a complete Euro-implosion. The likelihood that we will just muddle our way through this has increased substantially and that's what the market is reflecting; the market is not reflecting all problems solved/nirvana.
As proof of that, the financials even with the substantial rally is still pretty cheap. Maybe I'll post a quick update later, but Goldman Sachs (GS), for example, is still trading at around tangible book value which is incredibly cheap barring another financial crisis. Despite the headlines, GS is still the best managed investment bank out there and is pretty nimble when it comes to changing market environments.
Unsustainably High Profit Margins?
Anyway, one argument I keep hearing is that even if P/E ratios are reasonable-looking at this point, profit margins are at all time highs and are unsustainable. So if margins go back to what they usually are, the argument goes, then P/E ratios aren't as cheap as it looks.
I posted about this before, but here's a quick update. First, here's what people are talking about: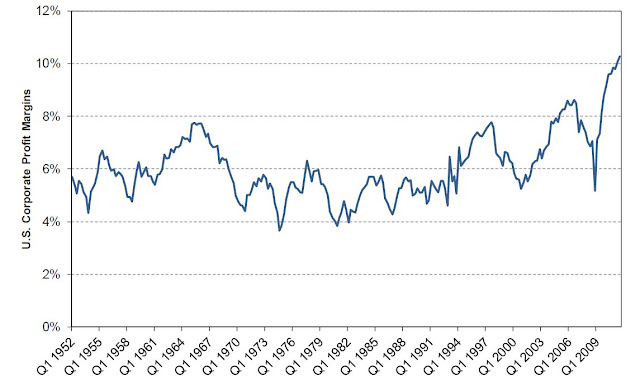 So just by eye-balling it, it looks like profit margins average around 6% over time, and now it's way up over 10%. Sure, this looks unsustainable! This may mean profits are overstated by 60%. If profit margins revert back to more normal levels, profits can plunge 40%. That means, with a constant P/E ratio, stock prices can go down 40% too.
But here's the thing. I spend most of my time reading annual reports and SEC filings, and I haven't come across anything close to this sort of abnormally high profit margin.
I posted a table before and I updated it with 2011 full year figures. I just picked a bunch of large cap names off the top of my head so I didn't cherry-pick names to make my point.
Here is something closer to what I see:
Operating Margins of Some Big Blue Chips

If you look through the table at the operating margins of these 'typical' companies, I don't see any abnormally high profit margins at all. I did expect Exxon Mobile (XOM) to have some excessive margins with crude oil up here at over $100 and gasoline prices on the rise. But even at XOM, margins have been lower in the past three years than in 2001 and much of the early 2000s.
So where is the excessive profit margins?
My favorite investment ideas lately as I've been posting here since the fall are financials. I didn't include any financials in the above table as we don't have to look to know that profit margins at financials have been pretty low since the financial crisis. Banks, investment banks and insurance companies are not making anywhere close to the profits they did before 2008. So there is no abnormally high margins there either so go figure.
Graham and Dodd P/E Too High!?
The other argument I hear a lot these days is that although the regular P/E ratio is reasonable at around 15x last year's earnings, the Graham and Dodd P/E ratio is way too high at 24x or some such high number.
So what is the Graham and Dodd P/E ratio? This is simply a P/E ratio calculated by using the average earnings over the past ten years instead of just the most recent year. This adjusts for the 'cyclicality' in earnings. Earnings of companies tend to be cyclical; high in good times, low in bad times. So by taking a ten year average of the earnings, this supposedly smooths out these cyclical ups and downs and makes valuing the market a little easier and more 'accurate'.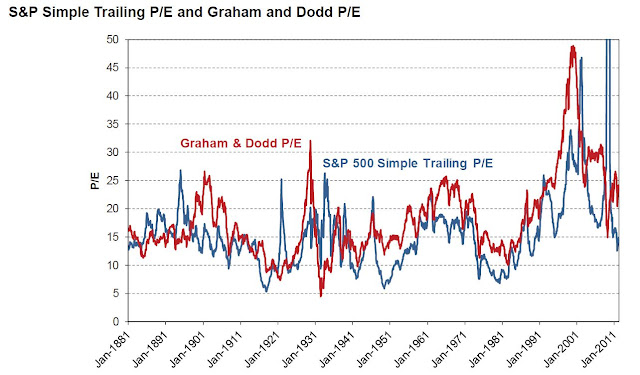 Above is the chart that shows that although the trailing P/E shows a reasonably priced market, the red line shows that we are still way overvalued. One reason I've been skeptical of this figure is because I think that the large losses from the financial crisis is included in the ten year average earnings so tends to make the earnings look really low. Is this abnormally low? I tend to think so even though others will argue that those losses were 'real' and not necessarily one-off events as financial crises tend to happen with regularity (I would counterargue that the 2008 crisis was not a typical once-in-a-decade event, but much bigger, less frequent event).
Otherwise, I would think the message it sends would be reasonable.
But again, we have to look at what this means for investing. I scratched my head when I saw this chart so decided to create a table of my own using the blue chip stocks in the operating margins table above and see what the historical P/E, 2012 estimated P/E and Graham and Dodd 10 year average earnings P/E ratios look like.
It's always good to look under the hood to see what the big, macro charts actually means.
Here is my table: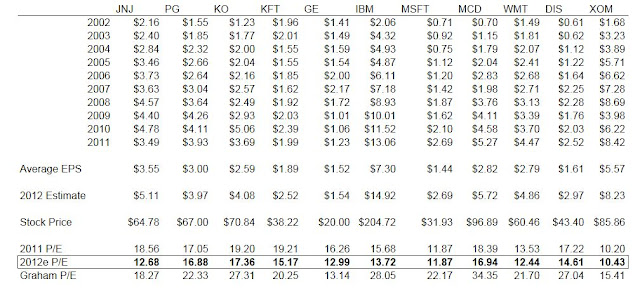 So what people usually look at are the historical P/E ratio (most recent fiscal year or trailing twelve months or some such) and the expected P/E ratio for the current and next year.
In this table, I do see that many of these companies do have a pretty high Graham and Dodd P/E ratio. Coca-Cola (KO) has a Graham and Dodd P/E of 27x and IBM's is 28x. Disney's is 27x and MCD's is 34x.
So those are pretty high figures. But wait a second. Of course they are going to be high since these companies have grown their earnings in the past decade. The higher growth in EPS in the recent past, the higher the 10-year average EPS P/E is going to be.
Is that a bad thing? Should we look at MCD, KO, IBM and DIS and think they are too expensive because of their high Graham and Dodd P/E's?
I'm not too sure about that.
Let's look at the Graham and Dodd P/E versus their prospective EPS P/E (for the current fiscal year):
Graham and Dodd P/E 2012 estimate P/E 10 year EPS growth
KO 27.31x 17.36x +12.7%/year
IBM 28.05x 13.72x +21.9%/year
MCD 34.35x 16.94x +23.4%/year
DIS 27.04x 14.61x +17.1%/year
So even though the Graham and Dodd P/E ratios look ridiculous, the prospective P/E ratios look very reasonable.
I don't really know the dynamics of how this works for the whole market. It may have something to do with the big losses in financials during the crisis and their current 'high' valuations due to depressed earnings that make the 10 year average EPS P/E ratio look high.
The other argument would be to doubt the prospective earnings for 2012. Again, they will point to the unsustainably high profit margin chart shown above. But if you look at these 'typical' blue chips, they don't have unsustainably high margins (see margin table).
So although I would be cautious if the overall market was getting expensive, again, I don't really see it when you really get on the ground and look around; the top down macro story (unsustainably high profit margins combined with way too high Graham and Dodd P/E ratios) that looks compelling doesn't really match the reality of individual companies.
Quick Comment on Apple
So what's up with Apple? Apple looks insane for sure; it does look like it has come too far too fast and is talked about so much that it has to be a candidate as a bubble stock. BUT, the most important factor is missing from the "Apple is a bubble" story; valuations. Apple stock is still astoundingly cheap on a valuation basis.
Is the earnings unsustainable? I can't say where it will be in five or ten years, but at the moment, they seem to have incredible momentum. They do seem to have a high market share of the tablet market, but if you look at tablets, laptops and computers together, then they are barely scratching the surface. The iPhone too, doesn't seem to have unsustainable market share either.
So the runway still looks pretty long. I would be a worried long, but definitely not short this thing. I think at some point before the Apple boom starts to tire, the stock price will get up to a more 'reasonable' valuation. That's my guess.
Conclusion
There is certainly a lot to worry about. Sovereign debt levels look very high around the world so we haven't solved all of our problems. But as wise investors always say, it's not usually a good idea to wait around for all the problems to be solved because then the markets would reflect that and would probably be pretty expensive.
The most important takeaway from the above discussion is that oftentimes we will get scary looking charts that scare people away from stocks. It is a good idea to keep an eye on these things. But I think it's not prudent to just sell stocks just because of some scary looking charts.
Back in 2000, the charts were quite scary too and it sure wasn't a bad idea to get out of stocks. On the other hand, you might have done even better if you looked under the hood and just stayed out of the expensive things (tech stocks, internet stocks, Coke at 40x p/e etc…) and invested in things that weren't expensive (most notably Berkshire Hathaway at the time and many of the old 'industrials' that didn't have a .com at the end of it's name).
There are quite a few people who made great track records in long only portfolios even starting in 1999/2000.
It is very important to know and understand what the charts and other information you get mean before acting on them.
It would be a huge mistake to see the above charts and sell stocks and buy bonds or whatever, as I still see great values in the stock market (I will post a short, quick update on Goldman Sachs later). If high valuations are a concern, sell stocks that are trading at high valuations. If high and unsustainable profit margins are a concern, find the companies in your portfolios that might have unsustainably high profit margins and sell those. Don't sell stocks that don't have this problem!