Bank of America (BAC)
BAC announced earnings too, and things there are looking interesting. Like other banks, there is a problem with NIM pressure. But the investment bank / brokerage business seems to have done really well.
I won't go into any details here, but I just want to jot down what I was looking at. First of all, the valuation play for BAC is similar to JPM even though I have very different views on the management of each. I have a very high regard for JPM management, but only so-so for BAC. These post-crisis / scandal CEO appointments tend not to work out too well over time and I can't get over the fact that this may be true in the case of BAC too.
I know Buffett has endorsed current BAC management, but I think he really sees the value of the franchise; his ownership of BAC was a bet on the cheap valuation of BAC and their competitive position and not necessarily the current management (even though he has explicitly said that the current CEO is doing the right things).
This is the part that is interesting. In post-crisis / scandal situations, the right thing is usually pretty straight forward. It's not easy, necessarily, but the job is to clean up the mess made by the previous management. It doesn't take a lot of creativity, vision, or leadership skills or anything like that. In a turnaround situation, survival is the priority so you don't need a visionary, charismatic leader.
Chuck Prince and Martin Sullivan looked good too, initially for a few years, when they were just cleaning up. But they proved to be horrible CEOs beyond that. I have no proof that Moynihan is any better or worse than Prince or Sullivan at this point.
Anyway, the valuation play here is simply that BAC is worth book value, or 1.5x tangible book value. I think Moynihan has stated that BAC can earn at least 15% return on tangible book in normal times (when the current high cost of dealing with the mortgage mess settles down).
At 2012 year-end, the BPS for BAC were:
BPS: $20.24
tangible BPS: $13.36
It just so happens that BPS is 1.5x tangible BPS, so we get the same valuation target using 1x BPS or 1.5x tangible BPS. With the stock price at around $11.50, there is still pretty substantial upside.
I've looked at this from the point of view the sum of the parts, so let's take a look at the old Merrill. It turns out that the old Merrill is doing very well. Here are the returns on average equity (ROAE) and returns on average economic capital (ROAEC, basically return on average tangible equity) of the three business segments that is the old Merrill (even though global banking now includes more than just the former investment banking business).
Global Wealth and Investment Management
2011 2012
ROAE 9.9% 12.53%
ROAEC 30.52% 25.46%
Global Banking
2011 2012
ROAE 12.76% 12.47%
ROAEC 26.59% 27.21%
Global Markets
2011 2012
ROAE 4.99% 19.19%
ROAEC 6.34% 26.14%
The returns for Global Markets exclude DVA and UK tax adjustments. So the old Merrill is looking pretty good. Combined, I think the total ROAE comes to 14.3% which is very good.
I think it is safe to say that the these three segments, or what we call the old Merrill is worth book value.
So let's see how this breaks out. Using average balance sheet figures for 4Q12, the allocation of equity and tangible equity to the old Merrill (combined above three segments) were as follows:
Total equity: $82.1 billion
Total economic capital: $42.2 billion
There are 10.8 billion shares outstanding so BPS of the old Merrill is $7.60/BAC share. Tangible book is $3.91/BAC share.
BAC is now trading at around $11.50, so the old BAC (pre-Merrill) is trading at $3.90/share (keep in mind, though, that some of the old BAC is now in the old Merrill; Global Banking, for example). What do you get for $3.90/share?
For BAC as a whole, the common equity and tangible equity were:
Common equity: $218 billion
Tangible equity: $144 billion
Stripping out the old Merrill from above, you get:
Old BAC:
Common equity: $136 billion
Tangible equity: $102 billion
On a per share basis, that comes to $12.59/share in BPS and $9.44/share in tangible BPS for the old BAC (or the post-Merrill-spinoff-BAC).
So you are getting $12.59/share in book and $9.44/share in tangible book for $3.90/share! That's a 60% discount to tangible book and 70% discount to BPS.
Pretty stunning when you look at it that way.
If the post-spin BAC is worth tangible book value and the Merrill is worth BPS, then the fair value of BAC is:
Merrill value (@BPS): $7.60/share
BAC ex-Merrill value at tangible book: $9.44/share
Total value: $17.04/share
That's 50% higher than the current price of around $11.50/share. This is less than the $20/share book value for the current BAC as we don't give credit to the goodwill in the non-Merrill portion of BAC (which is goodwill from the Countrywide deal and maybe some others). So it can be seen as conservative.
Goldman Sachs (GS)
Goldman also reported and had a double digit ROE. It reported 16.5% annualized ROE for the 4Q2012 and 10.7% for the full year.
BPS of GS at year-end was $144.67/share and tangible BPS was $134.06/share.
So GS is now trading right around at book value per share ($144.50). There has been concern that investment banks are dead, that new regulations will make it impossible for GS to make high returns again etc.
But I disagree with that. I do feel that GS will be able to generate good returns over time. Just as a review, here is a long term look at the growth of BPS at GS:
BPS
1999 20.94
2000 32.18
2001 36.33
2002 38.69
2003 43.6
2004 50.77
2005 57.02
2006 72.62
2007 90.43
2008 98.68
2009 117.48
2010 128.72
2011 130.31
2012 144.67
GS has increased BPS 16%/year since 1999, and importantly, BPS has increased every single year during the past decade and beyond despite the internet bubble and collapse, 9/11, Iraq/Afghanistan, financial crisis etc. Even since the peak of the bubble in 2007, BPS has increased at 10%/year.
Recent low ROE has been due to, according to management, conservatism on management's part because of the uncertainties with respect to the macro environment (Europe), regulatory/capital issues (which remain unclear) and lower client activity.
If they thought there was a permanent change in the environment, they would gladly buy back large amounts of stock and return capital to shareholders. They feel that this environment is temporary and want to hold capital so that they can deploy it when things normalize. Viniar has said that they would love to buy back more stock but don't want to be put in a position that when things start to move, they don't have enough capital to deploy.
It's no good to take management's comments at face value, of course. But on the other hand, if you don't trust the management, then you shouldn't be in the stock (unless there are other good reasons to own the stock; asset values or potential to replace the management etc…).
I do believe that GS is being conservative. This is very different from a company that can't earn high ROE even if it wants to and even in good environments. There is a difference.
GS is still an attractive stock to own, though it's not a no-brainer like it was when it was under $100.
Morgan Stanley (MS)
MS is an interesting situation. I was never really that interested in MS except for valuation reasons. It was just way too cheap, and it still may be.
I know that there are varying opinions on MS, but I am of the view that Purcell did destroy what MS was; when Mack came back, he rushed to get MS back into shape and got his traders to take huge risk to catch up to GS and others and he did it at precisely the wrong time and blew up spectacularly. What was left was not so inspiring. Even now, I don't see anything that exciting about MS.
But as I listened to the earnings call and flipped through some recent investor presentations (available at the MS website), one slide really stood out to me and I think was one of the factors that really made MS's stock price pop up a lot.
I was always wondering what was wrong with MS; why couldn't they earn better ROE? Merrill was doing fine. JPM was doing fine.
And then the below chart just hit me over the head. Maybe this was available before and I only noticed it recently. But this chart shows the roadmap for MS to get their ROE over 10%.
What struck me is that with the current plans in place, MS is on it's way to earn an ROE of 9-10%.
They can get to 9% with current plans and with no changes in the market environment. By returning excess capital, they can get it up to around 10%. If the operating environment improves, this can get ROE to over 10%.
It also helps that Dan Loeb is now long a bunch of MS. It's always nice when someone is there for the shareholder to make sure management follows through on plans and achieve their goals.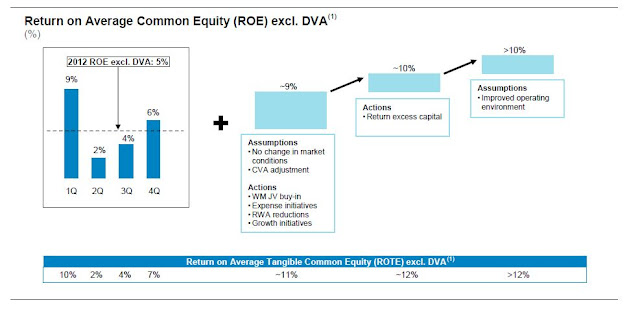 If the turnaround continues, MS can get back to at least BPS, which is up close to $30/share.
But…
So I do like the financials. I have liked them since late 2011 when I started posting about it on this blog. Financials have done well since then, but I do think most of them are still pretty cheap.
I think there is still a lot of fear. The press keeps talking about derivatives and leverage; people always worry about the last blowup and expect it to happen again really soon. But my bet is that that rarely happens; you don't get two similar blowups so close to each other. Yes, there is a financial crisis every few years. When the stock market crashed in 1987, people worried about another stock market crash for years thereafter (and it has yet to happen).
But I really doubt that there will be anything with the major banks in the next few years. Once people stop worrying about the last crash, money will start coming back to financials and valuations will normalize. And again, when I say 'normalize', I don't mean get back up to bubble levels.
On the other hand, I understand that financials are getting mighty popular these days. Someone who hated BAC at $5 is now saying it's a great buy at $12. I don't understand that, but that's how the street works.
Oh, and yes, there are a lot of other great banks and financial institutions. WFC, for example. It's a great bank. But I do think it's sort of fully valued, even though it's not at all a bad investment. It's not one that I would own now as I do like to buy things that are cheap that I think should be valued higher. WFC valuation looks OK now; not cheap. But the stock can do well when housing recovers more and they continue to increase earnings. But it's a different type of holding than I want in my portfolio at this point.
Anyway, let's see how it goes.