Oaktree Capital Group (OAK) announced pretty good earnings for the full year of 2012. The funds, across the board, returned around 15%.
For those who don't know, OAK is co-founded and run by Howard Marks, a legendary Buffett-like figure in the fixed income world. It would be well worth your time to google Howard Marks and read his "memos" and watch youtube and any other video interviews you can find on the net. He also wrote a fantastic book, The Most Important Thing: Uncommon Sense for the Thoughtful Investor.
Anyway, I'm not going to repeat all the stuff that you can get from the earnings release. If you're interested, you can just go to the OAK website and read about revenues, adjusted net income, distributable earnings, economic net income and all of that. I'm just going to look at some things that made me raise my eyebrows and then maybe take a quick look at valuing this thing at the end.
I did happen to pick up some OAK last year as it tanked after the IPO so I am sitting on some nice profits on this position but it doesn't feel as much like a no-brainer that it did last year. Anyway, I am getting ahead of myself.
No Longer Counter-cyclical?
The first thing that made me raise my eyebrows is that on the conference call, Howard Marks said that in 2012, they raised $12 billion in capital for funds which was their sixth year that they raised $10.8 billion or more.
I thought, great! That's really fantastic. They are on fire!
But then I thought, wait a second. I thought these guys were counter-cyclical. I remembered a graph they had in their S-1 (prospectus) last year that really impressed me. Here it is: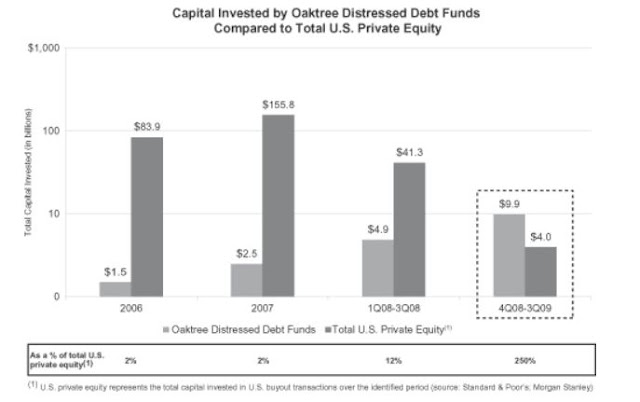 So in 2006, while private equity investors fell over each other investing, Oaktree Distressed Debt funds were laid back and not doing much. The same happened in 2007. But then when the wheels fell off, Oaktree pounced and made a lot of investments while private equity scaled back dramatically. See how investments ballooned from $1.5 – $2.5 billion in 2006-2007 to $9.9 billion in the 4Q08-3Q09 period.
OAK can raise a lot of funds to maximize management fees, but this is not who they are. They won't raise funds just to earn fees.
But then we see that OAK has raised more than $9.8 billion for the sixth straight year in 2012. To be clear, the above table is only for the Oaktree Distressed Debt funds and not for all of OAK. In recent years, they have been adding different strategies (real estate, Europe etc…) so it's not apples to apples (plus the above table is for capital invested, not capital raised).
But still, with default rates and high yield spreads at historical lows, it's hard to imagine where all of this capital will be invested. I don't mean to second guess Howard Marks or the smart folks at OAK. They are the pros. I'm an equity guy so have no clue about fixed income markets.
It seems to me, though, the combination of low nominal interest rates and low credit spreads around the world is at a historical level. It's hard to imagine how they can earn good returns going forward in this market.
Marks did say on the conference call that he thinks they can still earn 10% returns over time. This was in response to a question of whether OAK would consider lowering the 8% hurdle rate of return (before earning incentive fees) because interest rates are so low. Marks said that it is a fair intellectual argument to say that that should be lower, but he doesn't want to go to the investor and say they are lowering the hurdle rate due to lower interest rates when he still thinks they can earn 10% going forward.
Marks did say that their funds have done very well when launched in turbulent times but has also done OK when launched in good times. I suppose we can point to 2006-2007 launched funds.
But even then, interest rates weren't this low even though credit spreads might have been this low.
In any case, this is just my own reservation. OAK believes that there are opportunities and that's why they are raising capital. They are more concerned with deal flow. It the deal flow is not there, they can't invest, but they feel there is plenty on the way.
I have to say that investing in a fixed income asset manager during the peaking of the biggest bond bubble of all time, and one that particularly specializes in credit analysis when credit spreads are at ridiculously low levels is a little frightening.
Of course, OAK is just about the best in the business, but even great equity managers suffer during stock market bear markets. In a real blowup, OAK would definitely benefit as their pool of potential investments would expand. But their current funds would take big marks against them, so that's sort of a conundrum with owning OAK today. It can get bad before it gets really great.
Interesting Nugget From Call
By the way, there was an interesting comment from Marks on the call. Someone asked him about OAK's underperformance (versus benchmarks) in 2012, as they have underperformed by 50 bps or so.
Marks said that nine or ten years ago, some consultant asked OAK to add up their performance in each quarter the markets (benchmark) went up and do the same for each quarter the market went down. Marks cautioned that this is out of memory, but he said that OAK's funds underperformed by 55 bps in up markets but outperformed by 600 bps in down markets (annualized).
That's a fascinating piece of information. This should probably go into every OAK presentation. (I think Och-Ziff puts a similar thing in their filings; how their funds do well in down markets).
Anyway, let's take a quick look at what this thing is worth.
What's it Worth?
At the end of the day, we can't really predict where the bond market and credit markets will go. People have been calling the bond market a bubble for a long time. So the most important thing (as Marks would say), I guess, is to figure out what this thing is worth. The uncommon sense thing for the thoughtful investor to do would be if the stock is trading substantially below what it's worth, buy it (or hold on to it). If not, sell or don't buy. Of course, since OAK is a great organization, it makes sense for long term investors to hold on even if it is fairly valued.
We can look at OAK valuation as the sum of four (or five if you include DoubleLine as a separate piece) parts: Fee-related earnings stream, incentive fee stream, balance sheet value (cash, treasuries and investments in funds) and off-balance sheet accrued incentive fees.
Fee-related Earnings
In 2012, Fee-related earnings (which is management fee minus compensation expense and SGA) was $307 million. It was $315 million in 2011. Management fee-generating AUM has been stable at $67 billion in 2011 and 2012, so I think this $307 million is an OK number to use to value this stream.
At 10x this, that's $3.1 billion value for this stable stream of income. With 150 million total units outstanding, that's worth $20.70/share.
Incentive Fee Income
This part gets a little funky because it's very lumpy, so we have to make some assumptions. I think the funds that OAK offers are designed to earn 10% or more over time.
The incentive fee is 20% of what they earn (once the hurdle as passed), and much of that is paid out as performance bonus to the fund managers (and other employees, hopefully). Looking at the accrued incentive fees at the end of both 2011 and 2012, it looks like employees get 40% and OAK gets 60% (this varies by fund/strategy so may change over time).
So instead of using actual incentive fees earned over time, I'll assume the funds earn 10% (they earned 15% in 2012 so 2012 earnings are obviously better than they would usually be), they get 20% of that and pay out 40% of that for the bonus pool.
Let's assume incentive fee creating AUM of $34 billion. It was $34 billion in 2012 and $36 billion in 2011.
So the incentive fee earned in a typical year on $34 billion would be $3.4 billion x 20% = $680 million x 60% (40% to employees) = $408 million.
10x that stream would be $4.1 billion. With 150 million units outstanding, that's $27.20/share.
Balance Sheet Value
OAK has cash, investments and funds on it's balance sheet and some debt. This equity value is largely liquid, financial instruments so should be counted at book (funds are carried at market value).
Total assets at OAK was $2.36 billion and total liabilities were $966 million. Book value comes to $1.4 billion. If we use $1.4 billion and add it to the above parts, there will be some double counting involved as some of the assets on the balance sheet is being used to generate the above management fee and incentive fee (think office supplies/equipment etc.).
So let's deduct the $146 million in "other assets". I don't know what's in there, but we can be sure that PC's, servers and other office equipment isn't in any of the other balance sheet categories.
That would get book value down to $1.25 billion. That comes to $8.33/share.
Off Balance Sheet Accrued Incentive Fee Value
Due to the way OAK accounts for incentive fees (not booked until realized and paid), there is a lot of value that hasn't gone through the income statement and doesn't show up on the balance sheet (incentive fees only hit the income statement and balance sheet when it is paid out (or when it becomes payable)).
This amount of accrued incentive fees held at the fund level is $1.3 billion at the end of 2012. This comes to $8.52/share. (If the funds were liquidated today, this is the amount that would be payable to OAK as incentive fees (this is net of what gets paid out as performance bonus too))
Add it Up
So if you add it all up, you get:
Value of per unit
Fee-related earnings: $20.70
Incentive fee: $27.20
Book value: $8.33
Accrued incentive fee: $8.52
Total: $64.75
DoubleLine
OK, so then there is another piece to this puzzle, and that's OAK's 20% stake in DoubleLine which is on the balance sheet at $29 million. That comes to less than $0.20/share, but it's grossly undervalued there.
As I said in a previous post, I figured DoubleLine is worth somewhere between 1% and 2% of AUM. DoubleLine now has more than $50 billion in AUM (versus I think $28 billion at the time of OAK's S-1 filing). So the value of DoubleLine would be $500 million – $1 billion. 20% of that would be $100 million – $200 million. That's far higher than the $29 million balance sheet value.
It's already on the books at $29 million, so the incremental value per unit would be $71 million – $171 million. On a per unit basis that comes to $0.47 – $1.14/unit.
Now, that's not a whole lot given the $50-51 stock price and $64.75/unit fair value.
But Wait!
In the earnings release, DoubleLine's results is included in investment income. I assume that is a cash dividend distribution to OAK from DoubleLine (I think someone confirmed that on the conference call). That amount was $22.7 million for 2012.
But on the conference call, OAK said that the DoubleLine stake created distributable earnings of $34 million and that they feel although this goes through the investment income line, it is actually more like fee-related income. If that is the case, let's put a 10x multiple on that and it comes to $340 million.
That comes to $2.27/unit. That's far higher than the valuation we would get from a 1%-2% AUM valuation. Excluding the $29 million already on the balance sheet, that's an additional $2.00/unit in value you can add to the above $64.75/unit sum of the parts value for OAK.
So the total, total would come to $66.75/unit.
With the stock trading at $50.74/unit right now, that's a 24% discount to what it's worth.
Conclusion
So OAK still looks cheap despite a nice runup. I don't know the details of the DoubleLine earnings, so I don't know what can be 'normalized' and what's due to a good market last year. But it seems like using 2012 figures leads to a far higher valuation for DoubleLine than a 1-2% AUM valuation. I'm still on the fence on that one, but it's certainly possible that DoubleLine can be worth more than 1-2% AUM if they offer more funds with higher fees. But again, I just don't know the details.
OAK is a solid shop run by solid people and it is definitely one that you can own and be comfortable with over the long term. I would not worry about management, corporate governance, risk management and things like that.
But what I do worry about is the current state of the fixed income markets and the sub-6% high yield rates. It just sounds insane to me that junk yields less than 6%. I don't know how anyone can generate high returns going forward in this kind of market without going further out on the risk curve (and that often doesn't end too well).
I thought initially that OAK would be a great holding in front of a European collapse or something like that; they would raise funds and go over there and pick up the pieces. But it sort of looks like that might not happen (due to intervention by the ECB etc.).
But seeing how they are doing so well and making so much money in this almost maniacal bull market in credit, I fear what would happen on a hiccup.
I don't worry about OAK over the long term, of course. But I can't help but imagine that returns on capital raised today will be far lower than any of their funds in the past, and this may not bode well over the short-medium term.
I know, I'm a long term investor and I shouldn't think of things like that; I should just think about the long term.
But there is a part of me that feels like I'm looking at a private equity manager in 2006-2007 when looking at a fixed income manager today.
Anyway, that's just a quick look and thoughts on OAK today. I may have more to say or corrections after seeing the 10-k (or more immediate corrections which would be pointed out in comments below).
I still own OAK, but would look to lighten up on further gains. I wouldn't mind owning a smaller stake as a 'permanent' holding, but wouldn't overweight it too much in my active account.
It's a conundrum for me; I love the company, management etc., but I don't love the sector at all right now; too much love there…