So, Greenlight Capital Re (GLRE) announced a not so good quarter/year. Investment performance came in at +7.1% which is not very good given a +16% stock market last year. In 2011, the return was 2.1%, same as the S&P index, and 2010 was +11% versus the S&P's +15%. So that's three years in a row that Einhorn failed to beat the S&P 500 index. That's not good.
The BPS (fully diluted adjusted BPS) growth hasn't been too hot either over the past three years. BPS grew 13%, 1% and 2% in 2010, 2011 and 2012 versus +15%, 2% and 16% for the S&P 500 index. BPS also lagged the S&P 500 for the last three years.
But!
But hold on. We always advocate the long term. It may be a mistake to jump to conclusions on recent history. We know that a lot of investment errors occur due to the overweighting of the most recent data points.
GLRE has done better over time. Here is the table of net investment performance (of GLRE's investments) and BPS growth compared to the S&P 500 index:
GLRE Investment Performance and BPS Growth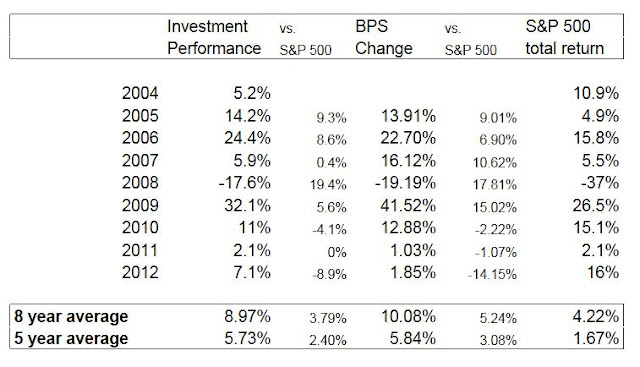 The GLRE investment return for 2004 is only for two quarters, so I just looked at returns/changes since the end of 2004 (the S&P 500 index return for 2004 is for the full year so is not comparable).
On this longer term basis, GLRE looks much better. GLRE's investments returned an average 9% (versus 4% for the S&P 500) over eight years and 5.7%/year (versus 1.7%/year for the S&P 500) over the past five years. That's an average outperformance of 3.8%/year over eight years and 2.4%/year over five years.
BPS change, which is basically a function of investment return and combined ratio, also outperformed the S&P 500 index by a nice margin (see above table).
Insurance Business
Other than investments, the other piece of GLRE's return is the insurance business. For that, let's take a look at the combined ratio. For 2012, it looks pretty bad. The combined ratio came in at 112.9%, far higher than it's ever gotten, and far worse than the competition.
I just updated the combined ratio table that was in GLRE's presentation last year and this is what it looks like:
GLRE Combined Ratios Versus Comps

TRH was merged into Alleghany (Y) and hasn't reported yet. But if you look at the others, it doesn't look too good. The average, too, since 2008 doesn't look good for GLRE's business.
Questioned about this during the 4Q12 conference call, they said it's due to one or two things (commercial autos) and they are working on it. But you know, does it matter if, for example, all of your stocks you bought went down or if one stock pick really tanked? I don't know. Just because the bad combined ratio is because of one (or two) bad idea, that isn't too comforting if it has such an impact on the total ratio. It just illustrates how concentrated/focused the business is and how important it's going to be to be right.
Hedges did say, though, that some of this is due to timing; GLRE didn't start writing insurance until recently whereas the competitors have been writing for a long time with policies written during the hard market years. Some of the low combined ratios recently have come from reserve releases from that period which GLRE doesn't have. There is definitely some truth to that as we know insurers have been releasing reserves for the past few years.
In any case, it looks like over the longer term, Einhorn is fulfilling his end of the bargain (outperforming the S&P 500 index) while the insurance side has seemed to lag (whether it's because of the reserve release issue, one time mistakes or just bad insurance underwriting).
Anyway, I updated a table that GLRE showed in their presentation last year. It shows how ROE changes according to various scenarios of investment returns and combined ratios.
I used the current balance sheet of net earned premiums of 60% of capital and investment assets of 150% of capital.
Below is how ROE would change according to the two inputs:
Return-on-Equity with Various Investment Returns and Combined Ratios


If the insurance business can just break even and the investments return 10-15%/year, BPS can grow 15-23%/year.
The big question, of course, is if they can achieve that.
I did raise some concerns about Einhorn due to his getting into what seems like macro investing. I may be wrong but my impression has been that he has gotten into this after the financial crisis. I have said before that so many value investors and equity managers spent so much time on the macro in the past few years that I felt that there is sort of a macro-forecasting/investing bubble going on.
The yen trade has certainly paid off in the past couple of months but it has been on the books for a while now so who knows if the returns is worth it given how long it's been there.
Whatever happens to these trades, I wonder if these things distract Einhorn from what I think he is supposed to be really good at (stock picking).
Anyway, I do understand that managers want to put on low cost, tail hedges to benefit from large movements that may negatively impact the equity portfolio. But I have my reservations about that. Also, managers may want to get into new areas to deploy larger amounts of capital. It's one thing when you are a $500 million – $1 billion equity manager, but when your assets get up to $5-10 billion, macro starts to get very attractive because of the large, liquid markets that you can deploy capital in.
I won't mention the New York Mets thing (some believe that when hedge fund managers start dabbling in trying to own a sports team, that may signify the end of their good run as their focus seems to be elsewhere. But David Tepper seemed to do well last year so…).
Increasing AUM, of course, is another factor. I don't have detailed data on Einhorn, but I'm sure the best years were the early years when he had way less capital. Can he get back to 10-20%/year performance at this AUM level? This is a question for all hedge fund managers at some point. We will have to wait and see.
Anyway, here is a look at GLRE's stock price versus the BPS over time:
Greenlight Re Fully Diluted Adjusted Book Value per Share vs. Stock Price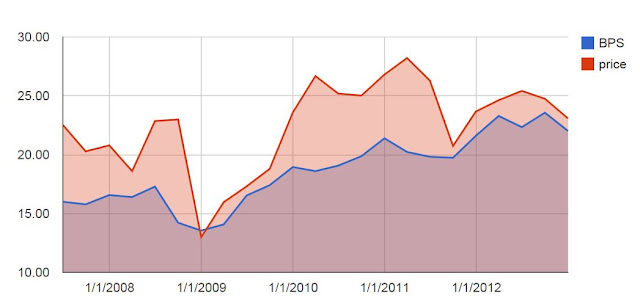 It seems to have averaged 1.2x book over time and is now trading at $24.57/share, 1.1x book value.
GLRE hasn't done as well as I would have thought in the past couple of years, but they have done well over time. I don't own a lot of GLRE, but I still do like it. The potential is there for this to be a really good performer over time and it is reasonably priced.
Of course, things can go the other way too. James Tisch, on one of the Loews conference calls recently said (not about GLRE specifically) that these reinsurance companies started by hedge funds may not realize that the insurance business can lose more than the premiums earned (combined ratios can get over 200%). He seems to feel that some of these entities may not understand the risk that they are taking.
(Note after the fact: It may not have been a conference call, but a TV interview that he said this. And I think he meant that CR can get above 200% or some such thing. I may revise this if I find exactly what he said, but it's not that relevant to this post, actually; just that insurance can be risky!).
It's a very interesting and scary point. This is an interesting situation, but it is risky (this is no Berkshire Hathaway). It is a no-brainer in a sense; get levered return on Einhorn (levered due to insurance float) at close to book value, but not without risk.