OK, so there are a lot of comments about the Berkshire Hathaway letter to shareholders all over the place and I really don't have too much to add, but I thought I'd post some comments for the people I tell to read these every year (and I know they don't).
So consider this just a quick takeaway sort of thing that may not be of much value to the folks who wisely took the time to read it. And by no means is this a summary. I'm only writing about certain things that came to mind. I don't mention most subjects that was in the letter.
Anyway, here goes.
Good return!
First of all, Berkshire Hathaway (BRK) grew book value per share (BPS) +14.4% in 2012 compared to +16.0% for the S&P 500 index. Buffett called this return subpar, but that's only because it underperformed the S&P 500 index (total return which includes dividends). Aside from that, +14.4% is a very good, decent return. BRK tends to not do well on a relative basis in strong market years, but does much better in not-so-good market years. So we shouldn't be too worried about BRK underperforming in big up years. In fact, Buffett says that BRK only underperformed in 9 out of 48 years, but that in 8 of those 9 years the market was up 15% or more.
Buffett says, "We do better when the wind is in our face".
Just one year doesn't really tell you much, so let's take a quick look at the longer term.
BRK growth in book S&P 500 total return
Since 1965 +19.7% +9.4%
Last 10 years +10.6% +7.1%
Last 5 years +7.9% +1.7%
BRK has grown an astonishing +19.7%/year since 1965 versus +9.4% for the S&P 500 index.
Please note that despite all that has happened since 1965 (Vietnam war, dollar devaluation/70's inflation, disco, black monday, internet bubble, financial crisis, gungnam style etc…) the market has returned +9.4%/year. Can you imagine telling Buffett in 1965 all of the horrible things that will happen in the next 47 years so he should consider another line of work?
The five and ten year rates are also favorable compared to the S&P 500 index.

Interestingly, he said:
Charlie and I believe the gain in Berkshire's intrinsic value will over time likely surpass the S&P returns by a small margin. (emphasis mine)

I've suspected that for a while now so that doesn't surprise me, but I don't remember him actually saying that this way before. Of course, he has said many times in the past that BRK's growth will be nowhere near what it has been in the past. Anyway, that is not really a big concern for conservative investors who own BRK. It's a solid stock to own.
Don't Worry So Much
I know this is a recurring theme on this blog and it's beating a dead horse. But other than "what do you think of Apple/Facebook (or whatever stock is hot or cold on that day) the most common question I tend to get when people realize I deal with the stock market is, "What's going to happen with the fiscal cliff?" or "I got out of the market because I'm worried about xxxxx". Some say, "you better get out of the market because I heard some guy on TV say that the Dow can get down to 6000!".
So here is Buffett again on the topic: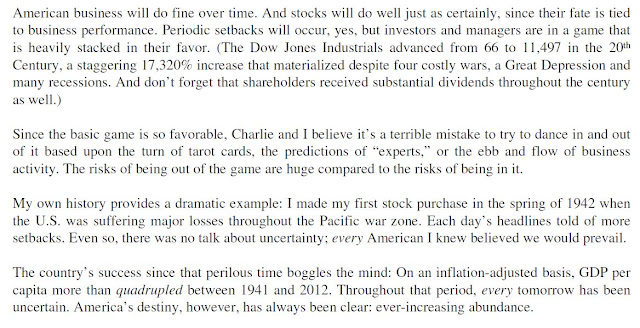 This is in sharp contrast to many shareholder letters these days that spend so much time talking about the many problems that we have. This is not to make light of the many real problems that we face. It's also not prudent to be overexposed, leveraged or anything like that where if another crisis happened you might blow up.
Granted, the reason why mutual fund and hedge fund managers have a different mindset than Buffett on this issue is partly due to the flakey nature of their capital. Buffett manages real permanent capital. Mutual fund and hedge fund managers manage hot money. If they act like Buffett, they will get killed when the market tanks and they have to face redemptions. Buffett never has to worry about investor redemptions! This is a key difference. This is also why individual investors should act more like Buffett than the ever-so-worried mutual fund and hedge fund managers.
New Investment Managers
As we know, Buffett hired two portfolio managers to invest BRK's capital. We don't have a whole lot of detail on their performance since they only just started, but Buffett says that both of them have outperformed the S&P 500 index by double-digit margins. That means each of them returned more than 26% (the S&P 500 index returned 16%) in 2012. Look through your year-end mutual fund statements; how many of your funds have a 26% return?
Of course, it's too soon to say whether these managers are any good (well, you can say they are good because they had good track records before joining BRK) but it's not a bad start!
Wells Fargo (WFC)
As of year-end, Wells Fargo is the largest stockholding at BRK. This may come as a shock to many who don't like banks, but there it is. WFC is a larger position than Coke, and the interesting thing is that it is big not because it has gained the most (like Coke) but because Buffett has been buying a lot of it lately. Only IBM is larger on a cost basis. On CNBC the other day, Buffett said he has bought WFC this year too and said it's cheaper than Coke.
I looked at WFC in this Wells Fargo is cheap post; the fact that he has still been buying supports the view that it is still a cheap stock. (Buffett also mentioned in the letter that WFC's earnings is understated by $1.5 billion due to an amortization charge that doesn't make sense).
Dividends
At the end of the letter to shareholders, Buffett explains why a dividend doesn't make sense right now for BRK, and how people can create their own dividend by selling a little bit of BRK every year. It's a great explanation of why it would be better to do this than have BRK actually pay a cash dividend. If you don't understand how selling 4% or so of your holdings every year is actually better than BRK paying a 4% dividend, read this section of the letter. It is very clear.
Books
Buffett often recommends books, especially the Graham books, but I don't remember him recommending books in his letter to shareholders. You would be a fool not to read books he recommends (if you have any interest in Buffett and his ways, that is).
Here are the books he recommends. I haven't even read them yet, but I put them in the store anyway.
Of course, he has to push the new book out by Carol Loomis.
Tap Dancing to Work by Carol Loomis
The Outsiders by William Thorndike Jr, a book about CEOs that were good at capital allocation and includes a chapter on Tom Murphy.
The Clash of the Cultures by Jack Bogle about investment versus speculation
Investing Between the Lines by Laura Rittenhouse
The following section gets into some valuation issues for BRK. It's a hint to friends and relatives who are not particularly interested in financial stuff to skip the rest.
BRK Valuation
One big parlor game on the internet is to figure out what BRK is actually worth. You can find all sorts of models and estimates all over the place. Buffett, in recent years, has gone out of his way to tell us that book value per share way understates the intrinsic value of BRK. In this year's letter, he again says, "we use book value as a significantly understated proxy " of intrinsic value (emphasis is Buffett's!).
So as in last year's letter, he is telling us that BRK is worth way more than stated book value, which by the way comes to around $114,214/share (from the annual report).
I will probably make some posts about BRK's valuation in the future, but for now I just wanted to make a quick comment on the two-column method BRK valuation that Buffett seems to endorse.
Let's take a quick look at this.
Buffett's idea is to look at BRK as two separate businesses; the operating business and the insurance business. The insurance business is where the stock and other investments are held (roughly speaking) and the operating businesses are the wholly owned (or consolidated) subsidiaries that include things like See's Candies, Nebraska Furniture Mart, Dairy Queen etc…
So what Buffett does is he looks at a single metric for each part: For the operating business he looks at the pretax earnings per share of businesses other than insurance and investments. For the insurance business, he looks at the per share total investments held by BRK.
The per share pre-tax profit of the operating businesses was $8,085. Since Buffett says he likes to pay 9-10x pretax profits, I will value the operating businesses at $81,000/share (around 10x pretax profit).
Investments per share comes to $113,786/share. So according to this method of valuation, BRK is worth $81,000 + $113,786 = $194,785/share. By the way, this comes to 1.7x book value. According to this methodology, BRK is indeed worth far more than stated book value.
This is a good, simple model and it's hard to argue against. There is no question that the investments per share are worth what it is on the books for. $1.00 of cash is worth $1.00 of cash. $1.00 of bonds is worth $1.00 of bonds. $1.00 of stocks is worth $1.00 of stocks. So what's the problem?
Nothing, really.
Another Way to Look at It
I don't want to argue what is the right way or wrong way to look at these things. Valuation is a tricky business and people will have different ways of looking at this and that's totally fine.
My own personal reservation with this valuation is that to me, investments per share may not be worth investments per share.
Why? Let's just say, for example, that all of the investments were in bonds yielding 1% and that there is no real prospect of this changing in the near or far future. There is no plan to distribute this or to sell the bonds and invest the proceeds in higher return assets.
In this case, if my required rate of return is 10%, then the investments per share is only worth 10% of face value to me. A business is only worth the future cash flows it generates, right? So if the future cash flows are low, then it's not worth much.
Some will argue that bond funds don't trade at such steep discounts. I think that is different. Money market funds and bond funds are valued differently; people don't expect 10% returns from a money market fund; just safety and stability of principle and some interest. This is the same with bonds. A bond is a bond, not a business.
If all of the BRK investments per share was invested in stocks managed by Buffett, then as an equity investor, it would obviously be worth investments per share dollar for dollar. It may even be worth more if we expect Buffett to outpeform the stock market.
If half of the assets is invested in low yielding bonds and cash, then to me it would be worth quite a bit less.
So what is the investments per share worth to me? I will look at this in detail in a later post but for now I'll keep it really simple.
First of all, I need to know what the expected return on the investments per share is. If the expected return is 10%, then of course the investments per share would be worth the whole amount as that is the same as my required rate of return (or discount rate). If the expected return is 5%, then the investments per share would be worth 50% of the amount.
Expected Return on Investments
I noticed that the expected long term rate of return on BRK's pension plan assets is 6.6%. I also see that the asset allocation for the plan assets is roughly 50% equities and 50% fixed income and cash. I actually don't know how the outside managed assets are invested but I assume it is not listed equities as most of what is in there is not Level 1 asset (assets with quoted prices); so I assume they are some sort of corporate and other fixed income investments.
Interestingly, BRK's investments per share is also close to 50% equities and 50% fixed income and cash.
Buffett has said many times that pension funds that have expected returns of 8-9% is pure fantasy; they will never achieve that sort of return in this environment.
Note, also, that this is the expected return on plan assets for the long term.
So you see where this is going. With investments per share of $113,786, the return on this amount may be 6.6%. If that is the case, then to me, the investments per share is only worth 66% of that or around $75,000/share. (If float can grow, then of course the increase in investments per share would be higher than 6.6%, but Buffett has been hinting that float may not grow all that much in the future and may even decline (but no more than 2%/year)).
Add this number to the operating businesses value of $81,000/share and I get a total value of $156,000/share. BRK closed today at $154,425/share so it is trading right around fair value using these assumptions.
The portion allocated to equities in the investments per share may rise, but I have established in my previous post So What is BRK Really Worth? that the fixed income and cash portions of BRK's total investments typically don't go below the float amount (which is currently $73 billion). This makes sense; float is an insurance liability so it is held in liquid securities.
It's fair to argue that BRK currently has way more cash than usual. There seems to be $47 billion cash and Buffett said he would like to keep it at no less than $20 billion. So maybe we should give full credit to the $27 billion excess cash because that can actually be deployed into high return equities or acquisitions. So we can take that excess cash out and value it at 100% and then keep the 34% discount for the rest of the investments. This would bump up the value of the investments to $80,000/share, so the total value of BRK would come to $161,000/share.
Either way, from this point of view, it looks like BRK to me is worth around $156,000 – $161,000/share.
Anyway, I do have more thoughts on valuation but I'll post those later.
Oh, and I do own BRK in my long term account and plan to keep it there a long time, but have sold out most of it in my more active account (it was a pretty big, levered (LEAPed) position so…).