OK, so maybe I'm the last person on the planet to notice this, but I just found this website by accident (trying to find the WFC 2012 annual report).
It looks like it was put up recently (?).
So Loews puts up a comic book, JPM puts up a nice promotional video, but WFC tops it all with an entire website with videos and whole bunch of history. This is great for people (like me) who love business history, seeing historic photos and film clips etc.
Here's the website:
http://www.wellsfargohistory.com/
My computer / internet connection is acting flakey now so I can't watch the videos (keeps stopping etc…) but I can't wait to see them all.
And of course, the best thing there are the annual reports going back to 1967 (why not further back? They are 160 years old, aren't they?).
http://www.wellsfargohistory.com/archives/archives.html (click on annual reports, but not on the picture below because it's just a picture)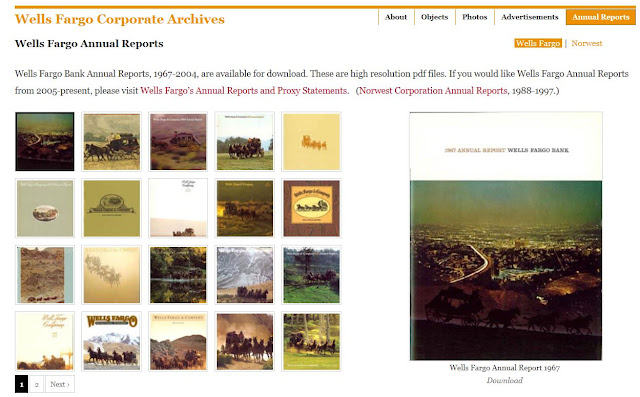 This should really be the standard for corporate websites. I don't know why most companies only put annual reports on the website going back four or five years. Do they have something to hide? For that matter, I wish they would put up detailed, downloadable spreadsheets (like Sony does on their website) going back decades. The world is moving in that direction with downloadable spreadsheets in SEC filings.
The problem with things like Value Line and Morningstar is that the corporate income statement / balance sheet data only goes back ten years or so, and the data is often wrong. So if corporations put that sort of thing up themselves, it would be great. We can't assemble that stuff ourselves as SEC filings only go back to 1994 or whenever, and annual reports on websites don't go far back at all.
OK, so this is more like a tweet than my typical post, but I really like what WFC did here so…
Anyway, here's some stuff from the website I cut and pasted without permission.
This is why people hate banks these days. No banks give out stuff like this anymore…
And check out the beginning of high tech banking from home (?)…
And ads…
And I just put this picture in here because it looks cool…
Check out the site! (and no, this sounds like a sponsored post but it's not!)