I haven't posted in a while but that's because I was busy with all the conference calls, annual reports, and of course, keeping up with all the stuff coming out of the Berkshire Hathaway annual meeting.

Anyway, there is plenty of stuff out there on the annual meeting and I don't have much to say about it; it seems like the usual, same old stuff. It was great that Buffett invited a short to ask questions. People have often complained about the softball questions that Buffett has gotten, and the often non-Berkshire-related questions over the years. So he got journalists to sort out questions ahead of time and then invited professional securities analysts to ask questions that might satisfy the more hard core Berk-heads. That was a good idea. And to make it even more interesting and have tougher questions asked, he invited a short this year. Unfortunately, I don't think any of the questions the short asked were very interesting and I could've answered those questions exactly as Buffett did (this is what happens when you follow Buffett for years; you tend to know what he is going to say before he says it).
OK, this is not the topic of this post. Let's get back on topic.
Stock Market Overvalued Due to High Margins?
People have been saying for the past few years that the stock market is overvalued despite reasonable looking p/e ratios because earnings are abnormally high now. The usual chart shown is the corporate profits-to-GDP ratio. This has been trending up and it is unsustainable. Even Buffett said a while ago that to think corporate profits can stay above 6% of GDP is fantasy (it is now over 11% according to the chart below from the St. Louis Fed). Someone asked this question at the annual meeting and Munger said that just because Buffett said something a long time ago doesn't make it carved in stone (or something like that), and he added that he thinks 6% is a little low.
Despite this record high corporate profit-to-GDP ratio showing abnormally high margins at U.S. corporations, Buffett said that the stock market is reasonably valued. Howard Marks said that too in one of his recent memos. Are they blind? Don't they see that current earnings are bloated and unsustainable?
I looked at this a while back and concluded that none of the big blue chips companies have this trend in profit margin (corporate profits-to-GDP is not the same as profit margin but is used as a macro proxy…); I made a post about this a while ago (see here).
So I comforted myself by saying that if there is a stock I own that is showing rising and unsustainably high profit margins, I should watch out and lighten up. Having not seen that in my companies, I didn't care. In fact, since I was mostly interested in financials, most of them showed below trend profit margins. This big chart of profit margins was not relevant to me at all.
I still don't care too much about it as I don't look at stocks as part of a stock market, but more as a piece of a business (would you sell the restaurant you love and built over the years just because the S&P 500 index is trading at, say, 50x p/e? Nope. If someone offered you 50x p/e for the restaurant itself, then you would have to think about it, of course!). If I like the business, how it's doing and it's current valuation is reasonable, who cares what some GDP ratio shows?
Having said that, I was still curious how people can keep saying (including myself) that the stock market is reasonably valued despite this fact.
Actually, the question is more why people like Buffett are not more worried about the market (we know he ignores market predictions but still) with this crazy looking chart. Why does he keep buying Wells Fargo every month (well, I told you he will keep buying WFC all the way up to $50/share. see Wells Fargo is Cheap!)?
Anyway, let's get to the picture:
There are a lot of these charts all over the internet; people have been talking about this for a long time now. I'll use the St. Louis Fed's chart since they probably won't come after me for copyright issues.
After-Tax Corporate Profits / GDP Ratio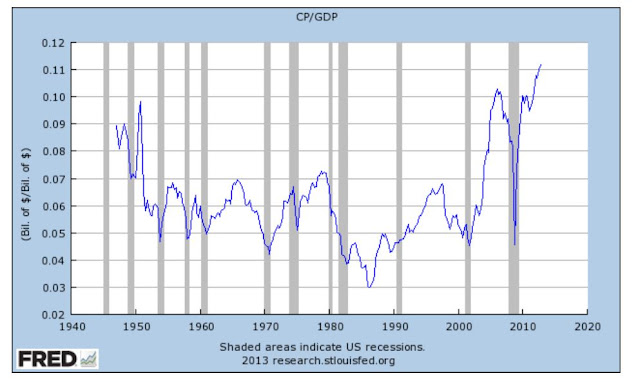 The chart is certainly staggering. I too tend to get acrophobic when I see charts like this with something shooting way out of range. Corporate profits has been in the range of 4-6% or maybe 5-7% for a very long time but is now above 11%. This can't continue. The argument is that if profits went back to 5-6% instead of 11%, then the stock market p/e ratio of 15x (or whatever it is currently) would actually be 30x on a 'normalized' basis.
Scary for sure. I do agree with the fact that these things do tend to mean-revert, and I also realize that there may be factors (international business of U.S. corporations) that might make this trend up over time.
But I don't want to get into the details of that now. The point of this post is much simpler.
What Are We To Do?!
The question is, with this ratio at such abnormally high levels, what the heck are we investors supposed to do? "Experts" tell us to get out of stocks or lighten up as profit margins are unsustainable and the market is expensive on an 'adjusted' basis.
As I said before, my personal reaction is to do nothing and just look at my holdings and see if I have a problem with any of them. If I owned a company that typically earned 10% operating margins and that went up to 20% due to some supply constraint that made the product prices spike up and input costs were lower than usual and the stock price reacted and is priced as if 20% margins is 'normal', then I might lighten up or sell out completely. If that is not the case, I would hold on. Who cares what the 'national' level profit margins are?
If you owned Berkshire Hathaway in August 1987 and were convinced that the market would crash soon, would you sell out? How many times would you have sold due to various reasons over the past few decades? And out of those times you would have sold, would you have gotten back in?
Anyway, let's get back to the above chart. Profit margins seemed high back in the late 40s and into 1950. Interest rates were probably below 2.5% back then, and profit margins were pretty high. If you knew for a fact that the corporate profits-to-GDP ratio is going to head down, would it have made sense to stay out of the market and wait for it to get to a level that is more comforting?
Here is the S&P 500 index from 1950 or so onwards:
S&P 500 Index 1950 – 2013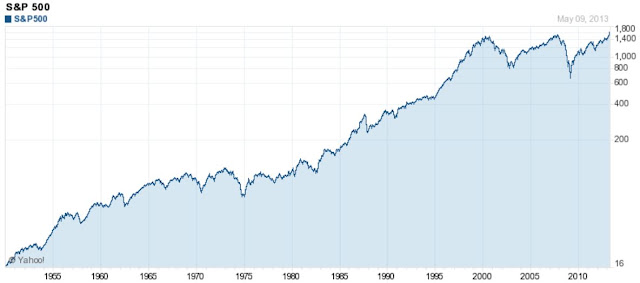 …and just for fun here's the Dow in the last century:
Dow Jones Industrial Average 100 Years (1900-2012)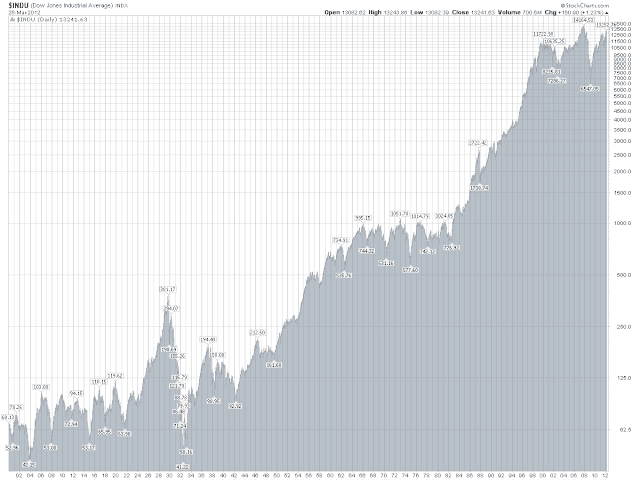 So, check this out; from 1950 on, corporate profits as a percentage of GDP headed straight down all the way until it bottomed out in the mid-1980s. You can draw dots in February 1950, 1955, 1960, 1970, 1980 and 1985 and except for 1980, the ratio is lower than it was the dot before. I am eye-balling this so I may be off a little here and there. But the basic message is the same. Corporate profits-to-GDP went down all throughout that period.
OK, so here's the fun part. You saw the S&P 500 and Dow charts so you already know where I'm going with this. Let's see what happened to the stock market since February 1950. I used February since that was the earliest datapoint on Yahoo Finance for the S&P 500 index. I do have complete data somewhere, but I didn't bother to look for it as I think this is good enough.
Let's look at what happened from February 1950 onwards to the S&P 500 index:
S&P 500 annualized
level return since 1950
February 1950 17.22
February 1955 36.76 +16.4%
February 1960 55.49 +12.4%
February 1970 89.50 +8.6%
February 1980 113.66 +6.5%
February 1985 182.19 +7.0%
Keep in mind these returns exclude dividends. It's only the change in the index.
So if you somehow had perfect foresight and you knew that the profits-to-GDP would head down in future years (back in 1950) and waited, when would you have bought stocks? If you waited until it bottomed out in 1985 (actually, I think it bottomed a little later, but…), you would have had to pay 11x as much as you could have paid for stocks in 1950.
If you waited five years, you would have missed out on +16.4%/year in returns. If you waited a decade, you would have missed +12.4%/year in returns etc.
So even if you knew for certain that profits-to-GDP would head down in the future, you still would have had no idea what the stock market will do. This is the essence (or one of many) of Buffett's approach to these macro things; even if you knew exactly what the unemployment number would be one year from now and what the GDP would be, you would still have no idea where the stock market would be. There are just too many unpredictables, or what he calls unknowables.
Please excuse my very rough eye-balling, but let's look at what happened during the time that profits- to-GDP went down versus the time it went up. As we saw in the above table, in the 35 years between 1950 and 1985, the ratio went down a lot, but stock prices rose 7%/year. Since 1985 through February of this year when profits-to-GDP went straight up to the current, obscene, unsustainable level, (just to keep the Feb-to-Feb comp constant), the S&P 500 index went up 7.9%/year.
So the market went up during the years when profits-to-GDP went down, and the market went up when this ratio went up. Is the profits-to-GDP really such a good indicator for stock market timing?
You can also try plotting the highs and lows of the profit-to-GDP chart and match it to the stock market. Maybe you would have gotten out in 2006 or 2007 and then gotten back in in 2009. But then maybe you sold out in 2010 or 2011. Not bad. But then, over time, you might have bought in 1970 and then sold in 1978 only to get back in in 1985 or 1986. You get my point.
Buffett has this sort of long term perspective on things and that's why he is not alarmed or overly concerned with these things. It's not always easy to do, but sometimes you have to look at the whole picture, not just the big picture. People, myself included, sometimes get mesmerized by certain graphs and charts and make them overly weight it and distract us from making good, rational decisions.
Interest Rates
We can make a similar argument about interest rates too. People say correctly that the stock market had a massive wind at its back with interest rates going down from double digits in 1980-82 all the way until today. They say that this wind at its back is now a headwind. Combine that with the abnormally high profits-to-GDP and the stock market is dead money, at least, for a very long time.
But again, in 1950, interest rates were 2% or whatever. That went up to double digits. I think rates peaked out in 1982, but since we already did the work for 1980, let's look at that. The S&P 500 index went up by 6.5%/year from 1950 to 1980 despite interest rates going from 2% to 10% or so. And that 6.5%/year includes the stock market being flat pretty much since 1965 through 1980. And remember, these stock market return figures exclude dividends.
Conclusion
So here we are today with interest rates at unsustainably low levels and profits-to-GDP at unsustainably high levels. Putting those two together, it's hard to imagine the stock market moving higher. At best, it seems like it will be flat for a long time to come.
But looking at the whole picture and not just at cherry-picked charts here and there that look scary, we see why Buffett says that the market will keep going up and will be substantially higher over the next few years even though he admits he has no idea what the market will do next week, next month or next year.
I am not arguing that stocks will go straight up and will always do so. I look at these charts and do believe in mean reversion and all that, and I don't entirely disagree with the bears out there. But I just like to take one step further and ask myself, well, what would have happened if I used this as an indicator to get in and out of the market? Would I do better than just holding on to great businesses or buying special situations? A little digging shows that maybe not.
I don't think these charts are irrelevant either. It's just that there are so many factors that are not knowable that we can't really predict what is going to happen based on one or two (or even five to ten) really, really convincing charts.