Banks/financials have been announcing earnings and they have been looking pretty good even though there is debate about the quality of some of the earnings (reserve releases etc.). There is a lot to talk about but I just thought I'd make a quick update on Wells Fargo (WFC) and J.P. Morgan (JPM) as I have talked about them a lot here.
Buffett's 10x Pretax Earnings / 10% Pretax Yield Idea
I am just going to look at the simple Buffett metric; pretax return on investment. I've mentioned this metric on another WFC post not too long ago. Buffett has said in a recent annual meeting that he would like to pay 10x pretax earnings, Alice Schroeder (Buffett biographer) has said that that's all Buffett wants to do; make a 10% pretax return on his investment with little risk. Munger also used WFC as a benchmark investment against which other potential investments would be compared a while ago; is the potential investment more attractive than WFC? I think he said at the time that WFC is priced at a 10% pretax yield so if something doesn't measure up to that, why bother?
WFC Pretax Earnings
For the past four quarters, here is the pretax earnings trend for WFC:

Pretax Preferred Pretax
earnings dividends earnings (less preferred dvd)
2Q2013 8,471 247 8,224
1Q2013 7,640 240 7,400
4Q2012 7,221 233 6,988
3Q2012 7,510 220 7,290
30,842 940 29,902
So on a trailing twelve month basis, WFC has earned $29.9 billion pretax (and after preferred dividends; I ignored minority interest as it is small).
WFC is now trading at around $44.00, so with 5.3 billion shares outstanding, that's a $233 billion market cap; WFC is trading now at a 12.8% pretax yield on a trailing twelve month basis. 12.8% pretax yield in a world of 2.5% interest rates is pretty attractive (of course, I would never price a stock to a 2.5% pretax yield, though!).
I don't think there is any doubt that Buffett still finds WFC attractive at these levels (he has been buying more all year). Using his 10% pretax yield, or 10x pretax earnings valuation, he would probably be buying WFC (as long as he is allowed to) up to $56. That's almost 30% higher than here. And keep in mind, if I understand everything I've read about Buffett, $56/share for WFC is a price that he would be interested in buying the stock, not some notion of intrinsic value, fair value or anything like that. It's a price that he would be willing to pay.
There are some issue with banks that people worry about, but we'll look at some of that later.
JPM Pretax Earnings
So let's take a look at another favorite on this blog. JPM also announced pretty good earnings even though some argue that reserve releases make the number not so high quality.
First, let's just look at the numbers:
Net to
common Income
shareholders tax "Pretax income"
2Q13 6,101 2,802 8,903
1Q13 6,131 2,553 8,684
4Q12 5,322 1,258 6,580
3Q12 5,346 2,278 7,624
22,900 8,891 31,791
For pretax earnings here, I just took the net income to common shareholders and added back income taxes paid. JPM is now trading at around $56, so with 3.8 billion shares outstanding that's a market cap of $213 billion. That's a 14.9% pretax return, not bad at all. We can see why Buffett likes JPM (assuming he still owns it. I don't think anything has happened recently to suggest he doesn't own it; the whale loss didn't seem to bother him at all).
Using the above measure, Buffett would pay up to $84/share for JPM (10x pretax earnings); that's 50% higher than here. Again, this is what Buffett would be willing to pay.
Yes, but…
I know. Many don't see current bank earnings as sustainable. Reserve releases and a friendly Bernanke is really helping the banks (although we can argue that buying bonds is not helping banks as it flattens the curve (offset recently by a refinance boom that is tapering off)).
On the other hand, one can see the economy as still very subdued and not really recovered. Housing is still running way below historical trends, and of course, the interest margin is arguably at an unnaturally low level that would eventually normalize. Also, legal and other costs are elevated due to legacy problems from the financial crisis.
Anyway, let's take a look at what JPM says they can earn on a more 'normalized' basis from their investor day presentation earlier this year.
JPM has long said that under a more 'normal' environment (escalated credit and legal costs come down etc.), they can earn $24 billion in net income. This is the slide from the investor day presentation that shows this: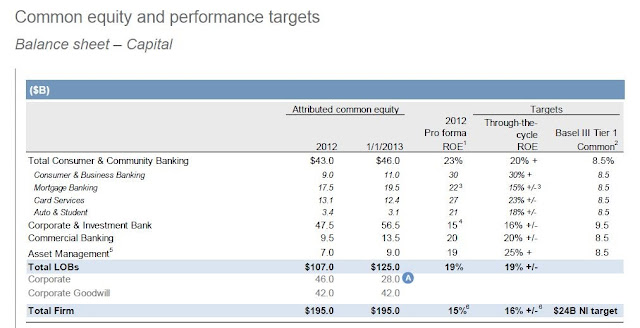 This is assuming no change in the environment, but just a normalization of the recent big items. Just for reference, the last twelve months net income for JPM came in at $24.4 billion.
And another slide showed there are growth initiatives that should allow JPM to earn more than $24 billion over time. Dimon didn't say when earnings would get to $27.5 billion shown below, but said that the initiatives are close to being in place or will be in place soon so are not longer term targets, so he hinted that $27.5 billion can come soon too. This is not some medium/long-term project/target.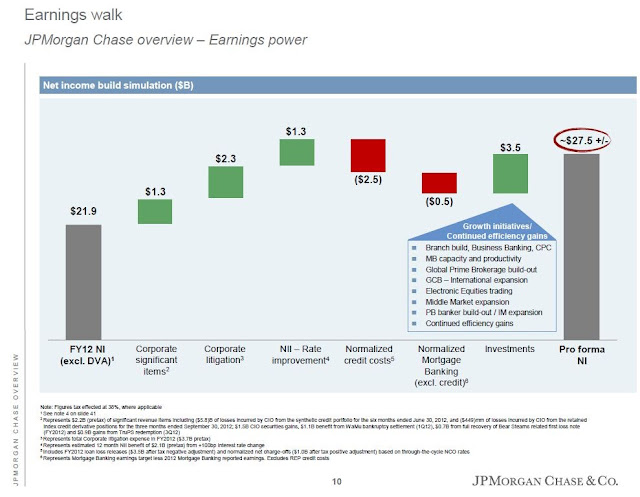 Using the $27.5 billion "normalized" figure including growth intiatives and $1.3 billion in benefit from a 100 basis point increase in interest rates, that would come to $39.3 billion pretax (assuming 30% tax rate), and deducting $1.5 billion for preferred dividends and "dividends and allocation of undistributed income to participating securities" leaves us with $37.8 billion. With 3.8 billion shares outstanding and a $56 stock price, that implies an 17.8% pretax yield. That's pretty interesting.
Again, not wearing rose-colored glasses, but borrowing Buffett's glasses, it looks like Buffett would be willing to buy JPM up to $99/share! That's 77% higher than the current price of $56. Another way to put it is that JPM is trading at 60% of what Buffett would pay for it.
The reason why I went back to these slides is to show that recent trends is within what JPM considers a normal range of earnings. Even though JPM had great earnings due to reserve releases that can't go on forever, it shows that earnings can grow even without that as other areas 'normalize'. Banks may be benefiting in the short term by dramatically improving credit trends before other areas pick up, it doesn't mean that earnings are unsustainably above trend. Of course, if other areas don't pick up, then recent trends may be unsustainable.
But, but…
Another big issue, of course, is the leverage ratio. A lot of questions on conference calls is about leverage ratios. This is obviously a factor. Many seem to think that higher leverage ratios will mean that banks can't make money as they did before. But I think this is not linear, necessarily. There will be an impact for sure, but these will be priced into bank products.
For example, if a bank had 1% return on assets and had a leverage ratio of 5% and therefore earned 20% on capital and then suddenly the minimum ratio was bumped up to 7%. This will obviously reduce the return on capital from 20% to 14%. But what will happen over time is that banks will reprice their loans/products such that they make a reasonable return on capital. In the above case, the banks would have to earn 1.4% return on assets to make a 20% return. Loan prices would have to rise 40 basis points (actually, loans would be only a portion of total assets so other assets would also have to increase 40 bps).
This is just an example using random numbers to make a point so not realistic. I may take a closer look once the dust settles on the rules. I don't think loans/products will reprice immediately to maintain return on capital, and I don't know if they will be able to reprice to go back to the old returns. But things will move in this direction.
A key point to remember is that this rule will apply to all big banks, so repricing should happen across the board. It's just another increase in the cost of business that will eventually be passed on to the customer. In that sense, this will have implications for monetary policy, of course, similar to raising the fed funds rate.
The problem, as Dimon pointed out, is if the U.S. has a more stringent leverage rule, it may put U.S. institutions at a disadvantage against other global banks.
Rising Interest Rates
The other issue is rising interest rates. We can't really argue both ways. We can't be upset with decreasing long term rates as it puts pressure on NIM, and then be worried about rising rates because that will kill the refinancing boom.
What do I think? Well, I like WFC, JPM and other financials, but it's not conditional on interest rates. For example, I don't say I like JPM with treasuries at 2.0% but hate it at 5.0%. This really makes no sense to me. I've been involved in the markets for a long time and I've seen all sorts of interest rate forecasts so the last thing I would do is invest based on a view on interest rates.
(At a firm I worked, I laughed at the resident economist who said that the Fed Funds rate will go down to 5%. It was 8% at the time. And then he said it will go to 3% and then I laughed even harder. etc… You get my point.)
I like these well managed financials because, well, they are well managed. It's not because I think interest rates will stay here, go down to 2.0% or won't go above 3.0% or anything like that. I have confidence that the management at good banks will do what is best in each respective scenario; I will let them worry about it. If I didn't think they could handle fluctuating interest rates, I wouldn't own them. And they have been stress tested. Not by the Fed or a regulator, but by a serious financial crisis.
Off-Topic Tangent
OK, so the above thought on interest rates reminds me of a conversation I had recently. I was talking to a guy who is really into value investing. He is and has been studying value investing for a few years and it's his main passion/hobby (not his main job). So I emailed him a whole bunch of stuff including book recommendations, told him to make sure to read Buffett's letter to shareholders, the article "Superinvestors of Graham and Doddsville" and the other usual stuff that we all read.
Then a few weeks later, during the market decline in June, I ran into him and he was very excited because he told me he sold out right before the sell-off (I saw him the other day but didn't ask him if he bought back in…).
Well, he did tell me that he is a value investor and not a trader so I was a little surprised. How can you do all the work and analyze companies, buy them and then just turn around and sell them just because the bond market goes down a little? If you evaluate and like a business with treasuries at 2.0%, you should feel comfortable owning it with treasuries at 3% or 5%. If not, then maybe it's not such a great business. If you won't like a business if rates go up, then one simply shouldn't buy that business to begin with (because rates will go up, eventually).
This also reminds me of a cardinal rule of trading; if you buy something for one reason, don't sell it for another. Of course, unless the other reason is a really good, valid reason to sell a stock (fraud uncovered, unfavorable management change, long term decline or permanent impairment of business etc.).
Anyway, time and again, I run into people who love and own this or that stock, but then they later tell me they sold because they feared a U.S. debt default, fiscal cliff, meltdown in Greece, bond market crash or some such thing.
Buffett wrote a comment (which Seth Klarman also said) in the "Superinvestors of Graham and Doddsville" article that this value investing idea is something people either get right away or not at all. Time and again, people will do one thing (rational) and then out of fear or greed turn around and do something that makes no sense. He is so right.
If you do all the work, read the annual reports, 10-k's, 10-q's, understand and like the business and the valuation, then go ahead and buy the stock. But please don't sell the stock just because everyone says that the bond market is going to crash and that stocks will follow it down! If a company you are looking at is going to go bankrupt if a recession hits or if interest rates go up to 5%, then the right thing to do is to not buy that stock to begin with. Don't buy it and try to sell out before the next recession or before rates start really going up because that sort of strategy doesn't work unless you are a really good macro trader (and those are rare!).
Yes, there are people who make a living doing macro trading. But macro traders spend all of their time looking at macro trends and placing bets according to their own deep analysis of what they think is going on. It makes no sense for value investors who spend their time looking at businesses and financial statements to be a value investor one day and then a macro trader another (buy a stock on business fundamentals one day and then sell on another day for macro reasons). When you really think about it, the sudden turning of value investors into macro traders is usually emotionally driven (fear), not by logic.
If you look at the great wealth created over time, most of it is created by people who buy and hold good assets; it is not created by dancing in and out of holdings (especially motivated by things that are simply unknowable).
But I know, I am preaching to the choir, but I can't resist as the above scenario happens to me all the time (and I'm sure many readers have the same experience).
Conclusion
I still like the financials. My only reservation is that they are getting more popular. But valuations are valuations and they are reasonable. I looked at WFC and JPM from a slightly different viewpoint from what is common (usually looked at on a P/B or P/E basis) and find it interesting.
There are obviously a lot of risks here. Interest rates can turnaround and head down and really continue to push NIM down and the economy can stay here or deteriorate making banking a horrible business. Inflation can pop up and make rates go up in a bad way. If rates go up due to a strengthening economy, that would obviously be good for banks regardless of what happens in the short term. Over time a stronger economy would increase loan volumes and help other areas and rising rates would get NIM back up and increase profitability.