After such a huge rally since the great recession, and now after a huge runup this year people are wondering what to do with their money. Many are afraid that the markets will tank as they are getting bubbly and there will eventually be tapering that will most certainly be devastating to the markets.
But then people like Buffett just keep buying stocks and telling people stocks are the place to be, even recently. When people ask him about stock prices, he always says that if stock prices go down it would make him happy as he will find more things to buy. Munger also says that bad times and low stock prices are good; that's how businesses grow. That's how the rich get richer; they just take advantage of dislocations to expand.
Someone asked Buffett about IBM; he owns a bunch and the stock price is down. He says that IBM is buying back a lot of stock so a low stock price is actually good for him as IBM can buy back more stock. This is something that people have a hard time understanding. If he owns a bunch of Berkshire Hathaway stock, how could he be happy to see the stock market go down? If he owns a bunch of IBM, how can he be happy to see the IBM stock price go down after he has already bought a bunch?
I was thinking about all of this stuff and it occured to me that this ties back into the outsider CEO / owner-operated business theme.
Outsider CEOs and owner-operated businesses tend to be good businesses and remember, those outsider CEOs had tremendous track records even through the bad times. If the best hedge against inflation or bad times is a good business, then outsider CEO businesses must be great hedges.
First, let's just look at the obvious one.
Berkshire Hathaway in the 1970s
I think what many fear is a 1970s like situation; interest rates and inflation flying out of control, stocks going down a lot or staying flat for a long time, stagflation etc.
So let's see how Buffett did during that horrible period. When I mention Buffett to people, even people on Wall Street, many say that Buffett is just a product of a bull market (if it's that simple, then how come there aren't more Buffetts?).
Here is the book value per share change of Berkshire Hathaway, stock price and change in stock price from 1969 – 1982. Now remember that 1969 was sort of a peakish year. You can use 1968, 1970, 1972 or whenever you want, but I think they make a similar point.
Berkshire Hathaway BPS Growth and Stock Price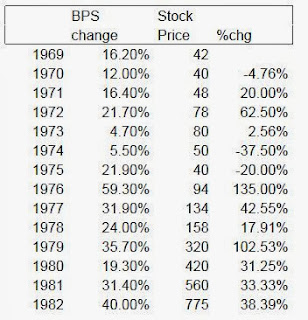 So from 1969 through 1982, BPS grew +26%/year and the stock price appreciated +25%/year. And this is between 1969-1982. There was no bull market here. There was no boom. From 1972 – 1982, both BPS and stock price rose +26%/year. Buffett (as far as I know) didn't own gold, gold stocks, crude oil futures, oil stocks, commodity funds, real estate, timber, alternative investments or anything like that. A lot of this value was created because of the flat period and low prices. He was able to pick up stocks and businesses on the cheap and he didn't need a bull market for those values to be realized.
I posted here many times how well the superinvestors of Graham and Doddsville did during this time period too despite a flat market.
OK. So we can't identify a Warren Buffett or superinvestor ahead of time you say. Of course if we invested with Buffett early on, it wouldn't have mattered what the market did.
So now let's look at one of the outsider CEOs.
Teledyne in the 1970s
So check this out. We know that Henry Singleton was a great capital allocator. But he was not a stock market 'superinvestor'. He bought and sold businesses, for the most part (they did get into insurance at one point too).
Look at this table closely. I input some of the data at the back of the book, Distant Force.
Teledyne Performance 1961 – 1989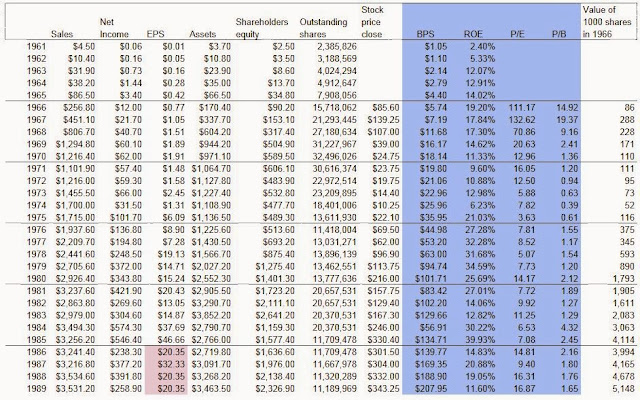 This is kind of tricky to look at due to all the transactions, splits, stock dividends and things like that. The important figure is the far right column which shows the value of 1,000 shares of Teledyne owned in 1966 (in thousands of dollars).
All of the raw data is from the back of the book, and the blue area are figures I calculated using the raw data. I just put it there for perspective so it's not perfectly accurate. For example, book value per share is simply shareholders equity divided by shares outstanding, ROE is net income divided by average shareholders equity (average of beginning and ending equity). There isn't enough information to make necessary adjustments, so the blue area is for reference only.
The purple/pink figures for the 1986-1989 EPS is calculated using the net income and shares outstanding as the EPS figures in the book look wrong. In the book, it shows EPS of $4.07, $6.45, $6.81 and $4.66 for that period which doesn't make sense if the net income and shares outstanding are correct (and those look more in line with the rest of the data).
From the end of 1966 to the end of 1989, a Teledyne shareholder would have gained +19.5%/year. And look at the valuation as of 1966; 111x p/e and 14.9x book. But you had to endure a lot of pain to achieve this long term return. From a peak of $288,000 value in 1966, the value of 1,000 initial shares held would have gone down to $52,000 in 1974. That's a stunning 82% decline! That's sort of what you get for paying more than 100x earnings. Between 1966 and 1974, book value per share of Teledyne actually increased from $5.74/share to $25.96/share; it grew +21%/year during that time. Net income was positive too all throughout the period indicating that Singleton was creating value throughout this period.
Between 1972 and 1982, Teledyne stock returned +33%/year. Again, this was sort of a peak-to-low in the stock market; no bull market or strong economy to help.
Much of Teledyne's return has come from share repurchases. There's a nice table at the back of the book that shows the many tender offers Teledyne did between 1972 and 1984 at significant premiums to the then trading price of the stock. The eight tenders in the table show that it repurchased as a percent of the then outstanding number of shares, 27.9%, 6.9%, 17.6%, 10.4%, 19.6%, 18.4%, 21.6% and 42.9% (in 1984). From 1972 through May 1980, Teledyne repurchased a cumulative 74.5% of their outstanding stock. In May 1984, they bought back 42.9% of their outstanding stock so the cumulative shares repurchased between 1972 and through May 1984 was an astounding 85.4%!
Buffett often mentions Washington Post as an example of how share repurchases can create value. His ownership stake has increased over the years simply from share repurchases (he owns the same number of shares but share count decreases with repurchases).
Low Prices Are Good
From these examples, you can see why Buffett is not concered at all with lower prices. If you have good, honest, competent management, then lower prices is fine as they will focus on value adding acquisitions or share repurchases. The above shows that you don't need a roaring bull market and booming economy to get good returns. In fact, the above two examples show people who did better in a flat, horrible economy than most did in the bull market starting in 1982.
This is why I think it's so important to focus on what management is doing rather than on what's going on in the world. A good manager will do what makes sense in whatever environment. The question of management is so much more important than what asset class might or might not do better in the future, how much cash to set aside or anything like that.
The natural instinct, though, from looking at the above tables is to try to find a way to avoid sitting through a 50% decline in the stock price (even Berkshire Hathaway went down 50% in the 1970s and in the recent financial crisis too (and in the late 1990s)). It seems like most people tend to focus on how to avoid the 50% drop rather than the long term value creation of good businesses (which makes a temporary 50% drop in the stock price entirely moot).
Depressed Valuations for an Extended Period
The other thing people worry about is that purchases of businesses made at reasonable prices may trade at depressed levels for a very long time. What if you pay 20x P/E for a business and it trades at 7x P/E for an extended period of time? If it trades cheap for a long time and the business is sound and throwing off tons of free cash (again, this is why free cash flow is so important!), then it's not going to matter; value will be increased.
The Teledyne example is a perfect one. Teledyne would not have done so many tenders if the stock wasn't so cheap.
Let's take a look at the period 1969 through 1979. According to the table above, Teledyne was trading at 20.6x P/E back in 1969, but was trading at only 7.7x P/E in 1979. The value of an initial 1,000 shares owned in 1966 grew from $171,000 in 1969 to $890,000 in 1979. That's an +18%/year return! And that's with the valuation going from 21x P/E down to less than 8x P/E.
So for the Teledyne shareholder to have done well, it didn't even have to get back up to 10, 15 or 20x P/E. Going from a reasonable (or high) valuation to a cheap valuation still allowed the shareholder to do well. And again, that's due to the tenders done throughout the 'cheap' period.
And importantly, a Teledyne investor didn't have to wait until the stock price got cheap in order to do well in the stock. Of course they would have done better buying at the low, but how many people actually do that? In many cases people wait for a good opportunity to buy and it never comes, or it comes at a far higher price.
Conclusion
With the market having done so well recently a lot of people seem to be looking for other places to put their money. They wonder how much in stocks they should own, whether they should get into real estate, gold or other hard assets. Institutional money is running to alternative assets.
I think the more interesting question is not so much whether or not to own stocks (versus other assets), but which stocks to own. I think history shows that choosing which stocks to own is more important for returns than choosing which asset class to own, which sort of goes in and out of fashion. If you own commodities, gold or real estate, they will go up and down with the trends/fashion of the moment (actually, real estate can be managed actively and intelligently).
I know there are academic reports contradicting this, but my guess is that those studies focus on large institutions and their equity portfolios tend to mimic the major indices so there is probably very little difference in returns based on stock selection.
But if you own a good business such as those run by an outsider-type CEO, the stock price may go up and down in bull and bear markets according to the mood of Mr. Market, but the intrinsic value of the business will keep going up. And the markets will eventually reflect that increasing value over time. Even if Mr. Market refuses to acknowledge the value, a good CEO can use that irrationality to enhance value (through aggressive buybacks).
Anyway, this is what Buffett keeps saying and value investors understand this. But I just wanted to use a specific example to illustrate exactly what he means; to see the mechanics of how this actually happens. Of course, Teledyne is an extremely successful example so we can't expect to find something that will do as good as the old Teledyne, but I think many companies operating under similar principles can do much better than the market (and certainly better than 'hard' assets and most other investment 'alternatives').
So what do you do in this market? I guess the conclusion is to keep doing what we should always be doing. Looking for businesses like the above, and then just hanging on. Don't do anything different. Ignore books and people who give advice on what to do in flat markets, inflationary markets, depressions, how to prepare for this or that and things like that.