So Ted Weschler, one of Berkshire Hathaway's (BRK) new investment managers made some news recently. He bought 3.7 million shares of DaVita HealthCare Partners (DVA) after their dreadful 3Q conference call in which Thiry (DVA's current and long time CEO) said that the outlook for 2014 is worse than they had anticipated, and the hit to earnings can be substantial. They knew things can be bad in 2014, but they said it may be worse than they thought.
BRK now owns more than 35 million shares. The most recent buy occurred between $53 – $56/share. The stock is now trading at over $58, so that's a $2 billion position.
The BRK annual report includes stock holdings with a value of more than $1 billion, so this DVA position will make it into the 2013 annual report. Just out of curiosity, here's a look at the December 2012 stock holdings:
Stock Holdings of Over $1 Billion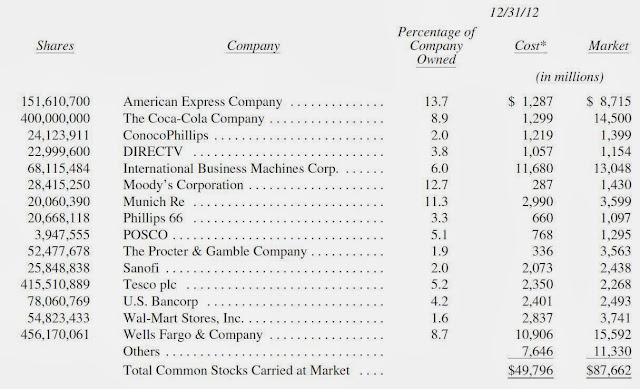 As of December 2012, DTV was the only pick on the list from the new managers (and this one is a Weschler pick too). The market is up quite a lot and there have been major purchases so this list will look a little different at year end, but it still shows you how big this DVA investment is, relative to BRK, even though it's only 2% or so of the equity portfolio (which was fair valued at $105 billion at the end of the 3Q 2013).
Also quite interesting is that Ted Weschler himself, his daughter and some trusts that he runs own a big position in DVA. In the November 12 filing, it shows that Weschler has a 2.2 million direct ownership stake in DVA, which comes to $130 million. That's a pretty big position.
I looked at this before when Buffett hired Weschler (and everyone started dissecting his hedge fund holdings) and I didn't think much of it. I thought, "different strokes for different folks". I've looked at dialysis center stocks before and remembered their stocks tanking on Medicare payment cuts (or threats). The common view (ever since at least the late 1990s) was that this is a business that can be destroyed by a single stroke of the pen in Washington DC. Why invest in a business that an irrational congress can blow up so easily?
I still held this view when I looked at DVA recently. But this recent purchase made me scratch my head so I decided to dig a little deeper to see what's going on here. Weschler is not a reckless gambler/risk-taker. He is a very rational investor. So whatever he is doing, he is certainly not betting on the outcome of the impact of the ATRA 2012 (see excerpt below on the American Taxpater Relief Act of 2012), Affordable Care Act and many other factors (you can read a bunch of risk factors in their 10-Qs and 10-Ks).
Going forward, obviously, Weschler's and Comb's picks will be more interesting to follow than Buffett's (who is limited to looking at only the 50 – 100 largest cap names). So this is something we Buffett followers have to do: study Ted and Todd's hopefully excellent adventures.
Here's one of the big issues people are worried about that will take effect in 2014 (CMS is Centers for Medicare and Medicaid Services):
Risk that our rates are reduced by CMS. The American Taxpayer Relief Act of 2012 mandates that the Secretary of Health and Human Services (HHS) reduce dialysis payments beginning in January 2014 to reflect the Secretary's estimate of changes in patient utilization data from 2007 to 2012 for erythropoiesis stimulating agents (ESAs), other drugs and biologicals that would have been paid for separately under the composite rate system, and laboratory services that would have been paid for separately under the composite rate system. The Secretary must also use the most recently available data on average sales prices and changes in prices for drugs and biologicals reflected in the ESRD market basket percentage increase factor. CMS has asked for comment regarding phasing in any reduction over a one year or longer period. In the proposed 2014 ESRD PPS rule published on July 8, 2013, CMS determined that the ESRD Prospective Payment System (PPS) base rate that otherwise would apply in 2014 (inclusive of the market basket update of 2.5%) should be reduced to account for reductions in the use of drugs and biologicals between 2007 and 2012. This cut represents a significant reduction (inclusive of the market basket update of 2.5%) of 9.4% in Medicare payments that is proposed to take effect January 1, 2014 for calendar year 2014. Although the proposed rule is not final, if it is implemented as proposed, it could have a materially adverse effect on our business and financial condition. Any reduction in dialysis payments will negatively impact our revenues, earnings and cash flows.
So Why DVA?
I'm not going to do a thorough analysis of DVA here. I just wanted to make some major points that I realized as I took a look at this thing. And then I realized that DVA has components of two themes that I talk about here.
First of all, let's see how DVA has done over time. The current CEO, Kent Thiry, became CEO in October 1999. DVA (previously called Total Renal Care Holdings) at the time was in bad shape; probably due to bad acquisitions/big merger, too much debt and bad execution. He really turned the company around.
Here is the chart of DVA since Thiry took over:
DVA Since October 1999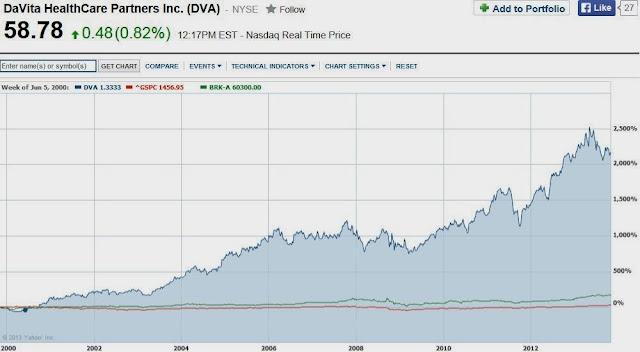 The red line is the S&P 500 index and the green line is BRK.
DVA has returned +25%/year since October 1999 versus +2.0%/year for the S&P 500 index (excluding dividends) and +7.3%/year for BRK.
Here's a more recent look; the last five years:
DVA Last Five Years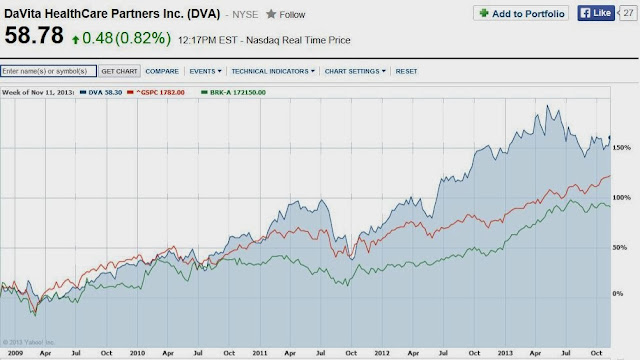 Free Cash Flow
(figures adjusted for 2013 stock split)

So this is just some stuff I got from the annual report letter to shareholders section which includes adjusted EPS and free cash flow. You can't really use operating cash flow less capex here from the cash flow statement as a lot of capex is for opening new dialysis centers (so it's not all maintanence capex). As you can see, DVA is a huge cash flow generator.
The first nine months of 2013 has also been pretty decent, and cash flow and free cash flow for the last twelve months through September 2013 was $1.62 billion and $1.24 billion respectively. Using the 9 month average shares outstanding of 215 million shares (close enough), that comes to $5.77 in free cash per share generated in the last twelve months. With a stock price of $58/share, that's 10x free cash.
That's pretty cheap. But of course, it's not so simple. Thiry did say that 3Q 2013 was exceptionally strong. And these numbers, although they reflect sequestration, don't reflect the problem shown above that kicks in in 2014, not to mention the substantially lower earnings expected from HCP that they mentioned.
We know that DVA has done incredibly well in the past, but how can we get comfortable (or how does Weschler get comfortable) about DVA going forward? That's the big question. Even though there are a lot of trends in favor of DVA (increasing obesity / diabetic rates, demographic trends (including racial composition of population) favor increasing rates of diabetes etc), there are trends that don't, like government funding problems (medicare / medicaid = bust), Affordable Care Act and other cost pressures on health care in general etc.
Howard Mark's Second Level Thinking
So here is where it gets interesting. I have been guilty of "first level thinking" on this issue for at least a decade. The first level thinker of DVA thinks it's a bad idea because their biggest payor is the U.S. government which is broke (and broken). If pricing and terms can be set and reset at the whim of congress, who wants to be on the other side of that? DVA and other health care providers have faced this issue for years. Private health insurers too, will be a source of increasing pricing pressure (as was discussed in the 3Q conference call). ACA may make that worse as private health insurers have to lower cost too.
But first, a detour to another situation this reminded me of:
Warren Buffett's Second Level Thinking on Banks
After the crisis, people wondered why Buffett kept investing in banks; isn't the golden age of banking over? Won't new regulations and lower leverage make banking a low return business? Won't the return on equity of banks going forward be really low? With interest spreads shrinking, how will banks make money? Won't Wells Fargo, one of the biggest, be the hurt most from these trends?
Buffett's response was simple. He said that in any industry, the one with the lowest cost wins. No matter what happens in the economy, if you have the lowest cost, you will win. This is true in any industry.
His point was that all of these negative trends will hurt all banks equally, but if you have the lowest cost, it will hurt you the least. The high cost players will be run out of business, and the lowest cost player can probably pick up market share. This is how it has always been in any industry.
This is precisely what seems to be happening in the banking industry now, with market share increasing at Wells Fargo (and Bank of America and JP Morgan too).
Back to DVA
So, getting back to DVA. DVA is staring at some serious issues going into 2014. But the key point here is that this is an issue that will face all dialysis (and other healthcare) providers. Drastic payment reductions will put many small operators out of business. DVA seems to be a very efficient operator (high margins) with very good patient outcomes (various metrics are disclosed every year in the annual report).
Without going into too much detail, I think we can assume that DVA is one of the most efficient operators out there.
During the 3Q conference call, analysts couldn't understand how Thiry can price and purchase dialysis businesses without a clear insight into how all of these new health care issues will play out in congress (and elsewhere). And interestingly, he insisted that they don't make purchases or price deals based on short term considerations, but they base it on a view of how things will look six or seven years out (or something to that effect).
The point is that if there are drastic payment reductions, they will simply have to cut costs to accomodate the new structure including closing some centers that don't make economic sense.
And judging from the numerous independent and non-profit operators out there, he feels that many of them won't be able to survive in a scenario of drastic cuts. This would force rationality on the part of the CMS (or else face a lot of problems from patients who may lose access to much needed care when too many centers close).
So basically, the less efficient operators should provide a floor to pricing such that in any scenario, DVA should be able to do well (even though there might be short term reset shocks to revenues / stock price etc.).
If they do insist on cuts even with the negative impact on many other less efficient operations, this may provide an opportunity for DVA to move in with more efficient and possibly profitable operations. Or who knows, this may even lead to a big acquisition by DVA (to take a big bite of market share).
Either way, the view must be that over time, say five to seven years, things will settle down to a level of stability and due to DVA's strong competitive position of efficiency and positive patient outcomes, they should come out the other end stronger. They will be a beneficiary of that (even though I would guess that Thiry would rather not have such a big shock to the system).
Outsider CEO-like
And not to overplay this idea, there is something sort of outsider CEO-like about Thiry. They grow through acquisitions and focus on capital allocation and free cash flow plus strong execution. Thiry doesn't own a whole lot of stock, which I find curious. So he doesn't quite fit the owner-operator model. Given the stock price performance over the past 14 years, I bet he wishes he held on to more stock too. But who knows what the situation there is.
Conclusion
So, the fact that there is some pricing pressure (including a big change from CMS in 2014) and uncertainty with respect to the ACA and other changes is a concern for any rational investor. But to stop thinking there (single biggest payor = U.S. government = bad investment) is first level thinking.
Thiry believes that DVA offers superior service to other dialysis centers, and that HCP (recently merged, non-dialysis health care business) is part of the solution to the health care cost problem. In this case, when the dust settles they should come out of all of this better off.
I can't imagine a scenario where payments get so low that many operators can no longer survive. Five to ten years from now, there will be a dialysis business and someone will be doing it profitably (or else the industry would disappear and that's not likely to happen).
There is also a sort of time arbitrage factor at work here; many seem focused on the short term outcome of various changes in the health care industry while others like Weschler focus on the long term outcome (superior management / execution will get the business to a better place regardless of what happens as any adversity will be an opportunity to increase market share).
There are other risks, but for this post I just wanted to focus on this aspect of DVA that I find very interesting as it sort of illustrates the concept of first and second level thinking, how the strong operators with competent management may be able to take advantage of adversity, and the importance of capital allocation and free cash flow generation (which makes it possible for strong operators to exploit opportunities as they arise).