OK, so this is really a strange coincidence. I was honestly thinking about making a post about Exxon Mobil (XOM) recently. Of course, noone will believe me; they will think I am just posting this because of Buffett. Well, yes. I like to post about Buffett's picks because why not? He is the greatest investor ever. It would be silly not to take a good look at his picks. But anyway, again, it's related to that book.
XOM an Outsider CEO Company?
Yup. The book, The Outsiders. And yup again, XOM is mentioned in there. Like the other outsider CEO companies, XOM really focuses on capital allocation. They won't just invest for the sake of growth or size. They want to invest when the returns are there. If there is no opportunity, they will return cash to investors, and they aren't shy about doing so aggressively. I think this is sort of first-level / second-level thinking too.
Thorndike says in the book that many point to production and reserve growth and say XOM has no growth but XOM (like other outsider CEO companies) focuses on return on capital so if they don't see good opportunities to deploy capital, they will repurchase shares instead.
So I was going to take a quick look at XOM to show how 'outsider' this company is. We all know how great a company it is. But XOM still seems to be used as sort of an oil price proxy; people get bullish when they forecast higher oil prices and get bearish when they think oil prices will go down or will stay flat.
That's kind of like first-level thinking; determining investment merits of XOM based on crude oil price assumptions. Sure, prices are very important for XOM. But there is more to it than that as we will see.
The red line is the S&P 500 index. I left out Berkshire Hathaway since the price history doesn't go back to 1970.
Inflation Hedge / Crude Oil Price Bet?
This is not to say that Buffett's purchase of XOM is not a bet on oil prices. He has said more than once that he feels crude oil prices will be much, much higher over time. Of course he bought ConocoPhillips (with poor timing) and has owned PetroChina in the past (primarily due to valuation gap between PTR and western majors). He has expressed interest in the oil sands in Canada (having helicoptered over them with Bill Gates a while back; he said he was interested but not at available prices or something like that).
He has also said that with this pump priming by the Fed, inflation is inevitable. He feels there is no question that what the Fed is doing will lead to inflation down the line. It goes without saying that he probably thinks that the longer it goes on, the bigger the inflation when it hits.
Having said that, I would be the first to insist that Buffett doesn't really make bets like that based on big picture scenarios. That really is not his game. But that doesn't mean it is a zero consideration when looking at investments.
If a business is a good one with good returns on capital, good management and available at a reasonable price, and oh, by the way, it might benefit from higher oil prices and/or inflation, I don't think it is going to bother him.
XOM used to be a big part of Alleghany's (Y) equity portfolio. They do say that they want to invest in stocks/businesses that is inversely correlated to interest rates (to hedge their big fixed income portfolio).
This is a snip from Y's 2012 letter to shareholders:
… and from the 2011 letter to shareholders:
Cumming and Steinberg of Leucadia also said that their portfolio (at the time) was geared toward inflation; every position that Leucadia owns would benefit from inflation which to them was inevitable.
This position at Berkshire might have a similar effect to what Alleghany talks about; it offsets the many financial positions Berkshire owns. But again, that wouldn't be the main reason Buffett would do this. First and foremost, he is investing in a great business at a fair price (or something like that). I don't think he sat down and said, "Gee, Berkshire needs an inflation hedge… Let's buy an oil stock!". Maybe (well, highly unlikely but who knows) he read the The Outsiders book, slapped his forehead and said, damn, why don't we own a bunch of XOM?! Duh! Or maybe he has deeper insight on XOM through the Lubrizol position.
Return on Capital
Anyway, here is one of the most important things when looking at XOM. The return on capital across the segments is amazing. This is not return on equity, but return on capital.
So let's take a look at some things I plucked from the XOM annual meeting presentation and annual report.
The long term return to shareholders has been pretty good. If stocks were a good inflation hedge since the early 1980s, then XOM was an even better one. Dividends have far outpaced CPI and the S&P 500 (S&P 500 dividends).
The chart on the right shows XOM's returns on capital versus the industry. This is pretty consistent going back in time too. This is from a past annual meeting presentation showing rolling average five year ROCE through 2007:
Here's a different way to look at the same stuff: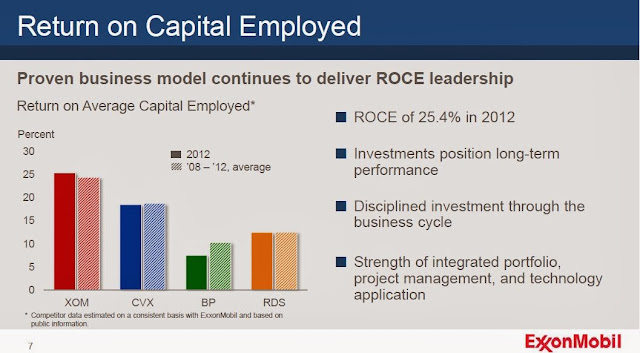 Return on Incremental Capital
And by the way, let's take a quick look at return on incremental capital. Average capital employed was $88,342 million in 2002 and $179,094 in 2012 for an increase of $90,752 million. Net income excluding financing cost was $11,895 million in 2002 and $45,438 million in 2012 for an increase of $33,453 million. So return on incremental capital was around 37% over the past decade. There was a large gain on sale in 2012 which makes this number look especially good. Excluding the $8,731 million gain in 2012, earnings would have been $36,707 so return on incremental capital would have been a still pretty good 27%.
Gain on sales are included in the return on capital employed figures going all the way back, so to keep it consistent with the way they present it, I will leave it all in there for the incremental returns below (otherwise you would have to back out all gains in previous years too).
So let's take a look at the same using a three year average instead (which is what should have been done in the first place):
And on this basis, over a ten year period return on incremental capital employed is 31%, so that's pretty good (excluding the 2012 gain would still leave you with 28% return on incremental capital). I didn't look at the five year period as that includes the XTO acquisition, great recession and the crude oil price spike to $150 so I figured it wouldn't be representative of what XOM is capable of over time.
No Spinoff?
And as if to counter calls for breaking up XOM, they show that XOM integrated is greater than the sum of the parts. Of course, outsider-type CEOs don't just do what's popular and what investors demand. They will do what makes sense. The chart below sort of reminds me of a slide that J.P. Morgan had in one of their presentations too showing the synergies of having asset management and other businesses together.
ROCE in the downstream business is impressive (the 2012 spike includes gain from restructuring):
With low cost / efficient operations:
Their chemical business ROCE is impressive too:
All of this leads to significant cash flow:
Shareholder Friendly
And this is where it gets really good:
Just like outsider CEO companies working hard to increase the per share intrinsic value of their businesses, XOM focuses on per-share interest in production. If capital is better utilized by repurchasing shares, they will do so. Conventional management would think more about expanding the empire, increasing reserves or production. XOM focuses on shareholder value.
This is the longer term look at the combined downstream and chemical ROCE.
What is remarkable about the consistently high returns is that the recent ten years have not only included the great recession, but a wild range of crude oil prices and refining margins. Crude has been as low as $20-40 to as high as $150 and yet XOM cranks out high returns consistently.
This is a table that shows how much XOM has paid in dividends and how much in stock they repurchased. For example, in 2012, they paid out $10 billion in dividends and bought back $21 billion in stock. To show what the dividend yield would have been if they paid a dividend instead of repurchased shares, I added the dividends paid and amount of cash spent on shares repurchased and divded by the average shares outstanding to show a sort of adjusted dividend yield. The column to the right shows the amount compared to the year-end stock price. You will see that even though the actual dividend yield is in the 2% range, there is a lot more cash being returned to shareholders every year. This is impressive given that this is not a business in runoff or anything like that.
They recently started separating out share repurchases that are actual distributions to shareholders and repurchases that offset shares issued under benefit plans:

Just for reference, here is some operating information on XOM:
Reserve figures will go up and down according to crude oil prices (higher prices = higher reserves etc). We see from here that even though earnings and other financial metrics have been improving over time, there hasn't been any growth in production over the past decade. Their refinery throughput is also down since 2001. Their reserves are higher and they have been able to replace reserves every year (2010 includes the XTO acquisition).
Conclusion
So, none of this is really new to value investors, but again, many themes seemed to come together in this idea. And then Buffett discloses a big stake in it, so that's an excuse to make a post. As I said, I was going to eventually make a post about it anyway (well, let's say it was on my list of post ideas) but the Berkshire purchase made me push it up the queue a little bit.
I will probably overuse this outsider CEO thing and the first-level / second-level thinking, but you know, those are good models to have so I don't mind overdoing it a bit.
Berkshire Hathaway bought a bunch of XOM earlier this year. It has all of the factors that Buffett seems to like:
Good management
High returns on capital
Shareholder friendliness (share repurchases)
High moat (technology, scale and integration that allows high returns can be considered moats)
etc.
And merging it with the outsider CEO themes and first-level / second-level thinking:
Many see XOM as too big to grow; they point to subpar reserve and production growth while others look at XOM as a proxy on oil prices. This sort of looks like first-level thinking whereas…
The reality is that XOM is focused not on superficial growth but rational capital allocation so would rather repurchase shares at reasonable prices than spend money to grow reserves/production just to please or impress Wall Street. Focusing on this outsider-CEO-esque behavior seems more like second-level thinking…
If opportunities aren't available for reasonable returns (this is not true; there are still opportunities), then XOM will simply just keep repurchasing shares and the per share share of production will continue to go up. This is the same as Coke, Washington Post, IBM etc.
From a business standpoint, the history of XOM shows that you don't really have to have a strong view on the direction of oil prices to make the assumption that they will continue to do well.
There are a lot of debates going on, like peak oil (or not), alternative sources pushing out carbon-based energy (Gore scenario). But I think those are extreme scenarios that won't be a factor for many years to come.
I suppose if one has a view on any of those things that are extreme, they may see XOM a bit differently. But that's OK. I don't have such an extreme view.
XOM did fine with crude oil trading in the $10s and $20s (and lower), did fine at close to $150, and is doing fine now at below $100. They will probably continue to do well under most moderate scenarios.
But it is interesting that you have a company/stock like this that:
fits the Buffett model
fits the outsider CEO model
and may benefit from higher crude oil prices and inflation
Anyway, I just looked at one aspect of XOM. There are certainly other issues. Cost of finding new reserves, what the cost of producing those new reserves are and what the return on investments will be in those projects that will be more expensive and more complicated etc. But knowing XOM's strict discipline in capital allocation, I do think we can take comfort in the fact that they will invest prudently and not make unwise investments for the sake of size. Oh yeah, and XTO has yet to prove itself, but time will tell; they are putting up impressive figures despite it.