I just listened to the fourth quarter earnings conference call for Pzena (PZN) and Richard Pzena said something interesting. He does a lot of work on deep value cycles and things like that so even if you don't own the stock, it's a good conference call to listen to. He is the only pure value investing asset manager out there so he has an interesting view of things both in terms of what is going on in the markets and what institutional investors are doing/thinking.
Midpoint of Value Cycle
He said that he thinks we are at the mid-point of the value cycle that average almost ten years peak-to-peak. He notes that we are five years past the 2008 low (actually, wouldn't a midpoint then be five years after the previous peak which might be 2007? OK, let's not split hairs). He says in these cycles, in the first half, the companies that had problems take time to resolve them. And after the problems are fixed, it takes another few years for the stock market to start to acknowledge that.
He mentions banks as having fixed their problems since the crisis over the past few years, and suggests that the market has not reflected that yet.
Record-High Profit Margin: Sustainable?
He also talked about the record high profit margin as being one of the hottest debates going on now. I also addressed it here before, but never thought about it the way he presents it.
He explains it in the fourth quarter newsletter which you can read here: Fourth Quarter Newsletter
Here's some cut and paste from that:
Pzena points out that although profit margins are at all time highs, ROEs are only average. In mature economies, capital replaces labor, so even as profit margins rise, ROE remains stable as more capital is required. So the margin expansion is showing that more profit is needed to earn an adequate return on capital.
This chart shows that capital intensity increases over time. If this is the case and businesses continue to require returns on their capital, then the profit margins may be sustainable:
Financials Still Cheap
He also points out that it's more important to look at the components rather than the whole. Where are the ROE's too high and unsustainable? Where are returns below normal with potential to come back up?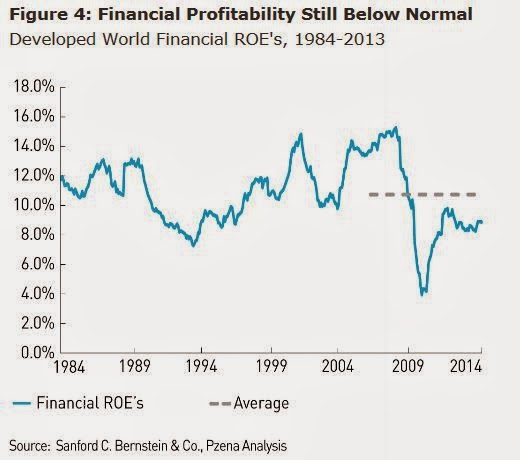 Pzena says:
In general we would seek to avoid areas where conditions have been too rosy, favoring those where a return to long-term norms and low valuations provides opportunity. Figure 3 indicates that healthcare, energy, financials and utilities are sectors where today's profitability is lower than what history would suggest. Financials are an obvious example. Figure 4 shows the 30 year history of developed market financial ROE's.
ROE's for developed market financials are 8.9% today, below their 30-year average of 10.7%. In the U.S., the picture is quite similar with ROE's at 8.8%, versus their long-term history of 11.6%. Some of this gap is attributable to cyclical conditions (e.g., low interest rates), but much is due to greatly increased capital, driven by changes in regulatory requirements following the events of 2008. The large bank sector, in particular, is in the midst of a substantial adjustment of its business model to fit the new regulatory regime. We believe the path to normalization of returns in the sector will likely include widening of net interest margins, recovery of global fixed income trading volumes, greater fee income, additional cost rationalization, and more optimal capital deployment. Though institutions are also feeling the effects of elevated operating costs and legacy legal settlements in an evolving regulatory environment, history indicates that as regulations become more certain and past issues resolved, the industry adapts and adjusts its business model to restore profitability. Coupled with low valuations, financials represent opportunity.
In other sectors, utility ROE's have followed interest rates lower, and health care returns have fallen off the unsustainably high levels experienced during the 1990's and early 2000's, yet valuations are generally elevated in both sectors.
I agree with that; I still do like financials even though I have lightened up a lot since they are much more popular now than they used to be. When I first started blogging about financials (and blogging in general), it was the fall of 2011, in the middle of the "Occupy Wall Street" movement. Everyone hated financials. Traders hated them, investors hated them. The public hated them. Bank employees were ashamed to confess that they worked for a bank in social situations. That is certainly not the case now with almost every CNBC guru loving financials.
BUT, the story is still good, I think. Valuations are still reasonable. And as Dimon said, all this talk about regulation lowering ROE's is true, but all the analysis is based on static analysis. If all else equal, capital requirements are raised, then yes, ROE will go down. And Dimon keeps trying to tell people, all else won't be equal. Banks will reprice loans to reflect higher capital requirements. Fees will be adjusted so various businesses will earn a decent return on investment. Banks will exit some businesses and enter new ones that make more sense in the new regulatory environment. But he complains that all of the analysis he sees doesn't take any of that into account; it's all straight math, a direct lowering of ROE in proportion to raised capital standards.
And my favorite analogy (my analogy, not Dimon's) is the big bang in the 1970s. People thought investment banks/broker dealers were finished when they deregulated commissions. If you just did the straight math and ignored the fact that broker-dealers were active, organic entities that can change and adjust, then yes, it would have been the end of broker-dealers. But we all know that's not what happened! Banks too have come through many regulatory changes over the years (interest rate regulation has changed over the years (look up Reg Q)).
Well, having said that, I'm not calling for a 1980s-like super-great times for banks going forward. I just mention it to say that it won't be so horrible as most people seem to think.
Housing
Speaking of banks, one area that has not recovered much is housing. I just read the most recent annual report of Toll Brothers (TOL) and found page 18 to be very interesting. It is not new at all; I've seen this argument made by Jamie Dimon, Warren Buffett and many others about housing. But it's the most recent, updated iteration of the "housing will recover" argument and thought it was very interesting.
I don't own housing stocks and never owned TOL, but I've always thought of them as a high quality organization, and their annual reports are really great. I've been reading their annual reports for years.
They explain things in detail and provide historical financial figures going all the way back to the 1980s. I think that's really good and honest. Some companies just want to show historical financials when it looks really good, and then stop showing it when things don't look so good. But TOL (like BRK and the old LUK and some others) always shows the same historical figures going all the way back. I love that.
Why don't I own any? Well, for most of the time I've been reading their reports, we've been in a housing bubble and after the collapse, I didn't think they were super-cheap. And when they were cheap, I felt more comfortable owning the banks and other stocks. So the stars never quite lined up for me to want to buy.
Anyway, this is the same story that has been told about housing over the past couple of years, but it's worth refreshing: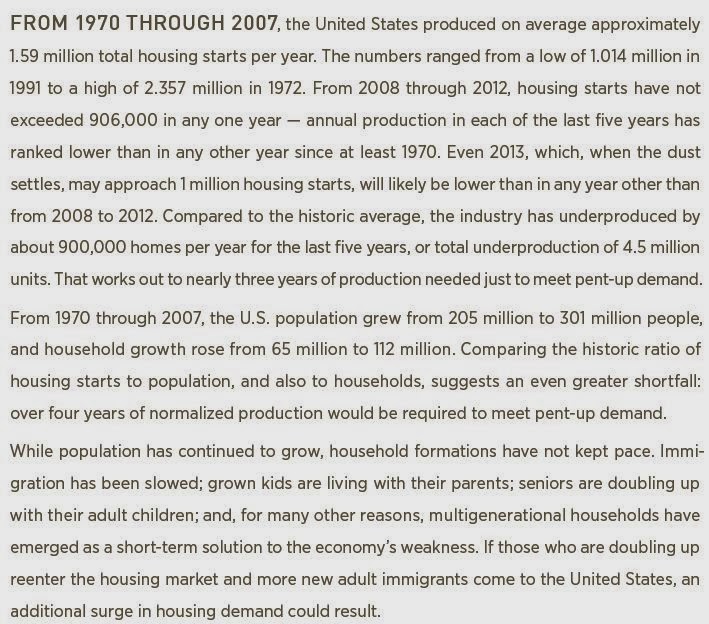 So maybe times have changed and we won't ever completely fill in this underproduction; maybe multigenerational households is the wave of the future.
But I wouldn't be surprised if there was at least some catch up at some point in the future.
Housing figures can go up and down in the short term due to mortgage rates and things like that, but I think some of these large trends (of underdevelopment) are so big that they will at some point correct.
And what's the point? I think this would be really good for the banks (and many other areas in the economy/markets).