This is going to be a wandering post, just thinking out loud about a few things that have been on my mind. I've been posting about "outsider" CEO's and now about 3G Capital. They of course have a lot in common, but one thing is that these acquisitive CEO's cut costs, and sometimes a lot. And this obviously raises questions about the sustainability of the business model.
This also ties in with the current Valeant / Allergan drama which I haven't posted about yet. The bearish view is that Valeant's business model is unsustainable.
Many say the same thing about other cost cutters. Popular examples would be Sears Holdings and Hewlett Packard. The consensus seems to be that Lampert cut investments so deeply that it has destroyed Sears Holdings, and Mark Hurd cut R&D so deeply at Hewlett Packard that he destroyed the business.
I'm sure there is some truth in both. When I used to go to K-mart at Astor Place in NYC, the elevator would make a scary, grinding sound. I only rode it when I had to and it only went from the first floor to the basement; I would not have ridden an elevator that sounded like that to a high floor. (I actually love that K-mart. Since we don't have a Walmart or Target in Manhattan, it's great for cheap things you might need.)
And every time I walk into a Sears it was really a sad sight. I actually really liked the kid's clothes at Sears. I thought it was good stuff for the really low prices. But I could get the same sort of thing at Target, Old Navy, Children's Place and many other places (so why would I go all the way to Sears just for that?).
But on the other hand, I'm not too sure more capex to make the stores look nicer would have made much of a difference. Sears seems to have clearly lost business in their respective categories to Home Depot / Lowes, Best Buy etc. And K-mart is just losing out to Walmart, Target and now the dollar stores. Capex doesn't seem to me (and never did) to be the answer, really. A nicer look wouldn't make me want to go to Sears versus Lowes. They are just suffering from a much deeper existential problem.
Hewlett Packard too may be undergoing similar pressures; they could have pumped more money into R&D, but to achieve what?
This got me curious about what many consider the most innovative company on the planet:
Apple (AAPL)
So, let's take a look at AAPL. Just out of curiosity, I looked at AAPL's sales and R&D since 1992. Steve Jobs came back to AAPL in 1997, the iPod was launched in 2001, the iPhone hit the market in 2007 and the iPad came out in 2010.
Surely, Jobs must have come back to AAPL and boosted R&D and spent billions (like other tech companies) to create such great products.
Let's take a look:
Apple R&D History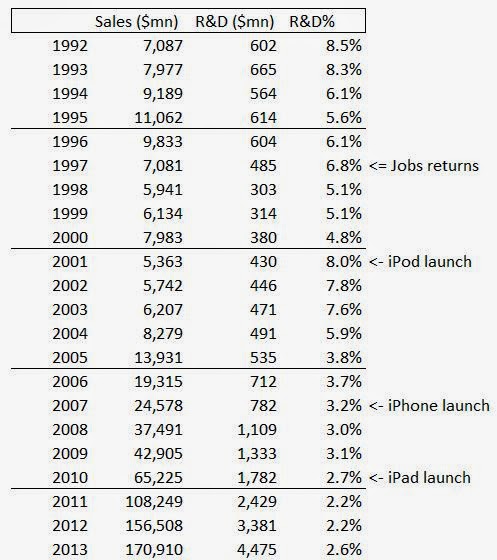 What is stunning here is that AAPL spent an average $610 million per year in R&D between 1992 – 1996. Jobs came back in 1997, and between 1997 through 2001 when the iPod was launched, R&D averaged only $382 million, 40% less than previous management! OK, so the iPhone is really what shook the world. Between 1997 and 2007 when the iPhone came out, R&D averaged $486 million per year, still 20% less than the previous management. In terms of percentage of sales, previous management spent 6.9% of sales on R&D, and Jobs spent 5.6% over the following ten years until the iPhone came out.
If you only looked at the numbers, you might have been horrified. My gosh, you would say. AAPL is so "has been" that they should be boosting R&D, not cutting it! This is a disaster in the making!
At the time, one of the most innovative companies was Nokia, so let's just look at what their figures looked like around the peak. In 2013, they sold the phone business to Microsoft so I left out 2013.
Nokia R&D History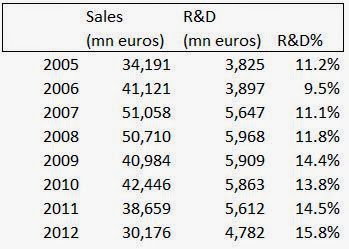 So these guys, the most innovative company in the world at the time, were spending between four to six billion euros per year on R&D, and double digits as a percentage of sales. Nokia was spending more than ten times as much on R&D as AAPL.
OK, so this is an exception you say. These disruptive innovations are always like this and they are unpredictable. Jobs is also a special case; a super-genius, so we can't use this as a standard for anything.
This is also true. But this would reinforce my doubts about AAPL's long term future (I have no position, but my view hasn't changed since the series of posts I made about AAPL in the past). If Jobs was able to create so much and change the world with less than $500 million per year in R&D, what are they coming up with now spending ten times that amount every year?! Does AAPL now have the big company disease?
Other Companies
Being curious, I took a look at a bunch of other companies considered innovative (and not), and some others that are known for spending a lot on R&D:
Sales R&D R&D%
MSFT $77.8 $10.4 13.4%
AAPL $170.9 $ 4.5 2.6%
Samsung $201.1 $11.5 5.7% (converted at 1000 KRS/$, 2012)
GOOG $55.5 $8.0 14.4%
IBM $99.8 $6.2 6.2%
HPQ $112.3 $3.1 2.8%
INTC $52.7 $10.6 20.1%
Sony $45.2 $4.7 10.3% (converted at 100 yen/$, sales exclude financials, film and music)
Nintendo $5.7 $0.7 12.5%
BA $86.6 $3.1 3.6%
GM $155.4 $7.2 4.6%
Toyota $256.9 $9.1 3.6% (converted at 100 yen/$)
Honda $118.4 $6.3 5.4% (converted at 100 yen/$)
So there are some surprises here. MSFT is spending $10 billion per year on R&D, or 13.4% of sales. You wonder where that money is going given their lack of innovation. Sure, there is some stuff going on; incremental improvements etc. But nothing really exciting. And that's after spending $10 billion per year? Again, maybe it's not fair but it's stunning what AAPL was able to achieve with less than $500 million per year.
Sony too spends $5 billion per year, and the iPod should have been their product. GoPro too came out of nowhere and that's exactly the sort of product Sony would have come up with back in the 1970's and 1980's when Akio Morita was still running the place.
GOOG spends a lot, and who knows where that goes. We know they are working on all sorts of things; Google Glass, driverless cars etc.
Owner-Operator Tangent
This AAPL and Sony talk gets me off on a tangent. What's really interesting is that AAPL created the products that Morita would have no doubt created. Why was Sony not able to? There have been a bunch of books on the topic, but at the end of the day, I just think that true innovation is hard with non-founder-owners (I use the term owner-operator, but I actually mean founder-owner). Sony, like MSFT, had certain businesses to protect too; AV business that would have become obsolete due to digitization (which happened anyway!) etc…
(Which makes me wonder, how much of MSFT's $10 billion is actually spent on creating new things versus trying to protect the Windows business? Imagine buggy manufacturers, upon seeing the automobile on the horizon, investing massively in R&D for horse feed that might increase the speed of horses. Is that what MSFT is doing?)
I read a few books written by Tadashi Yanai, the amazing CEO of Fast Retailing (which runs the Uniqlo stores). At one point in 2002, he retired and handed off the CEO-ship to someone he thought was perfect for the part; he understood the culture and what drove Uniqlo's success, was smart, ambitious and hard-working.
But it didn't work out. Why? Yanai said that the new CEO set a modest growth target and got too comfortable. He didn't want to take risk and make drastic actions to further the success of Uniqlo; he wanted to protect what was there and grow modestly with low risk. This turned out to be a disaster for Uniqlo and Yanai had to come back.
Maybe it was a similar story with Howard Schultz and Starbucks. He also retired once and had to come back.
This is what worries me about the generation directly after the founder/owner. A founder/owner will take big risk and take bold actions because he can. Employees can't complain. He is the star. Shareholders can't complain. Suppliers, vendors and customers can't complain. They are all there thanks to this one individual (well, OK, it's all teamwork. But there is usually that one person that attracts the team).
But when a non-founder / non-owner takes over, they can't afford to upset people. They can't take bold actions and take big risks because if they fail, it can be catastrophic. They tend to work to maintain the status quo, or work for modest growth and improvement.
(This is something to think about too with Berkshire Hathaway, by the way. Buffett can afford to take bold actions and goof up since he has so much goodwill (and cumulative performance) built up over the years that even a humongous blunder (unless it destroys BRK completely) will probably be forgiven. Not so the next CEO.)
This, by the way, is why I think Samsung was able to give AAPL a run for it's money while Sony is nowhere on the map: Samsung is still (or was until recently) founder-run and Sony is not.
A really great book written by a founder is: Creativity, Inc: Overcoming the Unseen Forces That Stand in the Way of True Inspiration. Catmull is really honest and discloses a surprising amount of stuff about Pixar in the book. I guess only Catmull or one of the other co-founders would be allowed to disclose so much. But reading this book, it makes you realize how hard it is to create and maintain a culture even when the founders are still there. This makes it feel like it will be very hard to keep up the winning streak without Catmull, Lasseter, Stanton etc.
Other Innovative Companies
We can look at Facebook, Twitter, GoPro and many others; they were created with very little capital. But it's not fair to say that the cost of creating Facebook was a laptop, an internet connection and a college student. For every Facebook, there are many others who try to follow in the footsteps of Michael Dell, Bill Gates, Steve Jobs, and most fail. So the actual cost of creating a Facebook is much higher than that.
I suppose we can argue that that is the case with the recent AAPL too, that Steve Jobs is a special case. Very few people change the world multiple times. So Jobs can work wonders with $500 million and most others can't. But does that mean they can with $5 billion? If they can't do something with $500 million, why should we think they can do it with $5 billion?
Valeant, Allergan, Yahoo
So it makes me wonder, maybe Michael Pearson is right. He has been in the business a long time and has seen a broad view of the pharmaceutical industry as a consultant so probably really understands the waste that goes on in R&D. And his idea is to just spend R&D where it matters; go for the high probability bets like line extensions or alternative uses and forget about the shotgun approach that seems to be common in the industry (not sure if that's still the case but I think it used to be; just do everything and see what sticks).
And perhaps purchasing products via M&A is more efficient than spending a ton on R&D.
Which reminds me that Yahoo's best investments have been Yahoo Japan and Alibaba. I suppose they could have spent the same money in R&D or marketing.
Masayoshi Son of Softbank is like that too; he has made some great bets over the years. I've never owned Softbank or any of his entities only because he is just too far out for me. He told Charlie Rose not too long ago that his stock price went down 99% but bounced back quite a bit.
Well, I tell people don't worry about stock price volatility and who cares what happens to the stock price as long as intrinsic value is growing. But a 99% decline, however temporary, even for me, is too much. We all have our limits, I suppose.
Does R&D Have to be Constant?
Back to the subject of R&D. I wonder if R&D has to be constant. Ackman pointed out that Allergan actually pays the CEO to spend money on R&D. I think that is to deter a CEO from slashing R&D dramatically to boost profits to collect a bonus. So it makes sense at some level. But it also reduces the incentive to make R&D more efficient. It's sort of the opposite of zero-based budgeting; they know R&D will not be cut regardless, because it can't be cut by contract. Is that really the way to run a business?
What would happen if all of the R&D in every company was subject to zero-based budgeting? Every year, you would have to justify every dollar of expense in R&D; why it is needed, the probability of success and potential return etc.
Unfortunately, for competitive reasons we shareholders really can't demand details on R&D spending. But I guess we can demand more disclosure as to how efficient or useful the R&D actually is. What the heck is MSFT spending $10 billion on?! NASA (actually, a panel that includes NASA) says that they can get people to Mars with $80-100 billion in 20 years. That's $4-5 billion per year to get a manned mission to Mars! What's MSFT gonna do with twice that?!
In a lot of companies, particularly high margin companies, it may be that they spend on R&D because they can. Their margins are high enough that even if they spend a ton on R&D, their margins would still be higher than anyone else, so why not spend and see what will come out of it?
Other Costs
So I looked at R&D and innovation (well, not really; I just looked at some raw numbers), but the same argument applies to all other costs. Just because you cut cost doesn't mean you are hurting the business, and just because you spend more doesn't mean you are improving the business. It all depends on what the costs are for. Is the cost really essential, or is it there because the business can afford it? In companies, people constantly need to be promoted so organizations tend to get bigger and bigger.
The guys at 3G Capital have been doing this sort of thing for years (as have, for example, the folks at Danaher) so they understand this very well and obviously have a good grasp of what sort of costs can be cut and which can't.
Even though I have no proof, I tend to believe that more businesses go out of business or suffer due to lack of cost controls (complacency) rather than too much cost cutting (which no doubt occurs too).
Conclusion
Well, there's really no conclusion in this post. Just more questions. I've worked in a big company and understand the resistance to change. Whenever we are asked to cut costs, all hell breaks loose and people fear that all sorts of bad things will happen.
Well, I did experience one bad cost-cutting drive. A company I worked for hired an efficiency expert and all hell did break loose. Suddenly there were no more paper towels, toilet paper or soap in the bathrooms and the hallways went dark as there were no more light bulbs. A bunch of other problems popped up, and it turns out that this efficiency expert was paid a percentage of total costs saved. Duh. So this guy basically just cut everything he had an authority to cut and I think walked away with a nice bonus (or he may have gotten fired before collecting for cause, but I don't even know;either way he wasn't around for too long).
As it says in the Fifer book, the trick is to cut costs that don't add to business and increase spending on what does. It's not about cutting cost across the board.
The problem with middle management is that when someone is in charge of a section or division, it's a rare manager that will work hard to shrink it. Most people want to expand their divisions regardless of whether it's a profit center or cost center. When you go to a budget meeting, who the heck goes, "I want my budget cut 10% next year!".
Sorry for the long, meandering post. Eventually this will turn into an idea and a more cohesive post.