This is going to be a short post. It's just another one of those things that hit me in the head, like, duh!
I read all the time that even Buffett is bearish the stock market as he is stockpiling a ton of cash. He has close to $100 billion in cash (and equivalents) on the balance sheet now. The idea is that the market is so expensive he is not finding things to buy (even though he is still buying Apple).
I took it for granted and sort of agreed, thinking that maybe he is just saving up for a really huge deal.
Still, something about this bothered me and didn't sit well. I was catching up my 10-Q's and just read BRK's 3Q and saw these giant numbers on the balance sheet, and something else struck me too, right away. Loss and LAE is up to $100 billion!
And that immediately reminded me of one of my old posts where I contended that Buffett never allows cash, cash equivalents and fixed income investments to fall very far below float (old-timers will remember this). In other words, the idea that the low cost "float" is invested in stocks and operating businesses, to me, is baloney. Well, cash/capital is fungible so you can't say float isn't invested in stocks. But still, I noticed this and made a big deal out of it. Well, sort of.
Anyway, I just created a new spreadsheet going back to 1995 to see if what I said is still true (well, there is no reason the historical data would change, of course).
And here it is:
Berkshire Hathaway Cash and Fixed Income vs. Float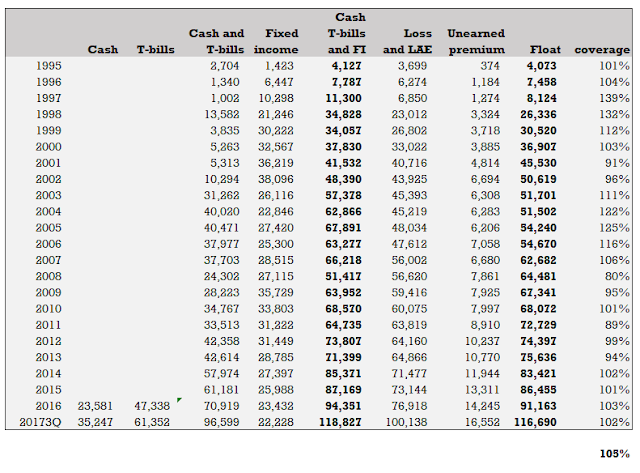 I shouldn't be surprised at this as I noticed this myself a few years ago. But check it out. I think people think Buffett is bearish because he used to say that he wants $20 billion of cash on the balance sheet at all times for emergency liquidity. And when cash gets over that amount, it is assumed that this is 'firepower' for the next mega-deal.
By the way, my float is not the same float as Buffett's. For simplicity, I only include Loss/LAE and unearned premiums.
Anyway, check it out. All of that cash and cash equivalent increase is basically just matching the growth in float! And to the extent that cash and cash equivalents have grown quicker than float reflects the reduction in fixed income holdings (from $36 billion in 2009 to $22 billion now), which is more of an indication of Buffett's bearishness on bonds.
The column all the way to the right is just the cash, cash equivalents and fixed income investments as a percentage of my lazily calculated float. You will see that it has been close to 100% since 1995, and I think it was true going further back. The average over this period is the 105% you see at the bottom of the table.
Conclusion
Anyway, the next time someone tells you that Buffett is bearish; just look at his cash stockpile, you can say that is more reflective of his bearishness on bonds (bond balance down, cash up), and the rest is backing up the float, as he has been doing since at least 1995.