So, like many of you, I watched the BRK annual meeting (replay) as usual. It was nice to have Ajit and Greg join Buffett and Munger on the stage. Buffett and Munger both looked great, and it was good to see that duo in action again.
There were a few interesting things this time. This is by no means a summary of the meeting or anything close to it; I will just talk about things that stood out to me or things that I thought about. I know I've said that before and then sort of ran through the various topics that came up. But in this post, really, I don't mention most topics that came up.
Opening Statement
The first interesting thing was Buffett's comments before the Q&A started. He showed a couple of interesting tables. The first one is the top market cap companies of the world as of March 31, 2021. Here is the list: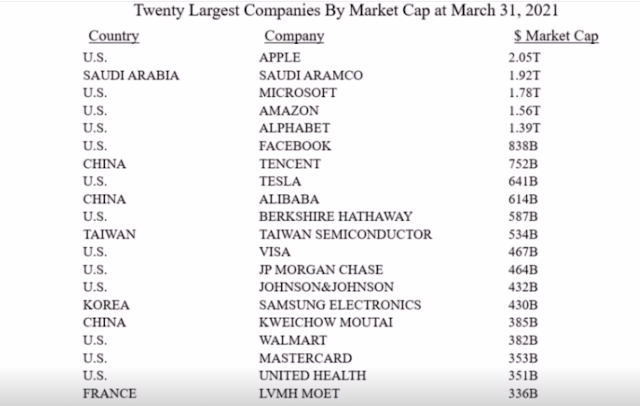 He pointed out that the top 5 out of 6 companies are U.S. companies. People who think the U.S. is on the decline should take note of this. The U.S. has a system that works etc. He said that in 1790, we had 3.9 million people in the U.S., 600K of whom were slaves. Ireland had a larger population, Russia had 5x more people, Ukraine had 2x more people etc… And yet, here we are in 2021 with 5 of the top 6 companies around the world U.S. based.
And then he talked about indexing and how pros are often wrong. He asked, of the top 20 largest companies on the 2021 list, how many will still be there 30 years from now. Then he showed us the list of top global companies in 1989 and pointed out that none of them are on the list today.
Here is the 1989 list: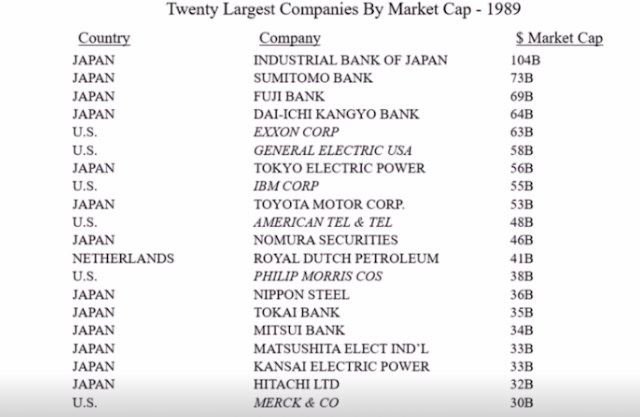 This is kind of scary because at the time, there were all these books out there, like Japan as Number One and many others that basically said that Japan has the industrial / political structure, hard-working, obedient and highly educated work force and many other traits that make them an inevitable force that will take over the world. Well, that didn't quite work out.
So it does scare me a little what might happen to the top 20 list today. Buffett meant to show the greatness of America by showing us the top 20 list of today, but I don't know if he realizes that showing us the 1989 list may actually be telling us that we are peaking in our U.S. dominance. That would be a more consistent message from looking at these two tables.
Being Right on Industry Doesn't Equal Easy Stockpicking
The other thing he pointed out is that being right about the future of an industry does not lead to easy investment decisions. People are all excited about electric vehicles and whatnot, but he points out that the automobile in the early 1900s was the future too, and yet, I think he said more than 2,000 companies entered that field back then, and there were only three by 2009; and two of those went bankrupt.
He showed a slide of some of the many companies in the auto business, but since there were so many companies, he only showed a single slide of companies whose names started with "Ma" (there were too many to list even just companies starting with the letter "M").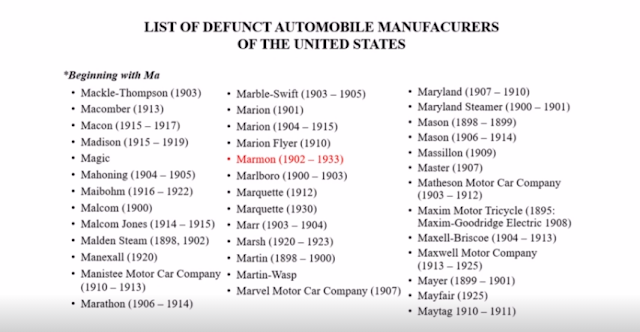 The same argument was made in the 1999-2000 internet bubble. People (I think Buffett / Munger too) pointed out that there were many, many railroad companies that jumped on the railroad bandwagon in the 1800s, and only a few survived.
So being right about the future in terms of industries does not guarantee success, whether it be electric vehicles, cloud, AI, alternative energy or whatever…
BRK vs. S&P 500
Someone asked what the argument is for owning BRK over the S&P 500 after 15 years of underperformance. Munger said that he prefers BRK as it owns above average businesses. Buffett said that he has never recommended owning BRK. If you can't evaluate or analyze businesses, you should just own the S&P 500 index. He pointed out that he has always said this, and even has it in his will.
That made me think about this for a second too. Why own BRK over the S&P 500 index?
Well, let's think about the two things that Buffett always tells you to do. When evaluating a business, you have to answer two questions:
Is it a good business?
Is it fairly valued?
We never evaluate businesses based on how the stock price performed in the past. Well, in this case, there is some need to evaluate that. But hold off on that for a second.
If you look at BRK, the answer to question 1 is probably, yes. It's a good business. It is certainly a collection of above average businesses. And 2? Probably yes there too. Definitely not overvalued by any measure.
How about the S&P 500 index? Is it a good business? Well, it is average, at best. Right? And then how about question number 2. Is it fairly valued? Well, this can get tricky. I tend to believe we are not in bubble territory on the index overall, and a P/E in the low 20s in the current interest rate environment is not expensive at all.
But there are pockets, maybe even big pockets of egregious overvaluation in the index. Like, say, TSLA. I tend to think the large tech companies are not overvalued (not cheap either). But OK, many think the S&P 500 index is overvalued.
So where does that leave us? The BRK is an above average business trading at a reasonable value whereas the S&P 500 index is an average business possibly trading at above reasonable value, or even at best, reasonable value.
Here, you have to be with Munger. It's BRK; no-brainer.
What about the past underperformance? Well, Munger calls it an accident of history. He believes that a collection of superior businesses will do better than a collection of average businesses over time. That makes total sense.
So when you put it like that, and you sort of break it down like the above, it makes sense to own, or keep owning BRK despite it's long term underperformance. Too much Kool-Aid for me?
Now, I am sure there are others here that would actually prefer the S&P 500 index; especially the tech lovers who think BRK is a dinosaur. That is not a totally unreasonable view either. It's a matter of taste, to some extent. And it's true that over time, an index will evolve (S&P survived past century) and it is not at all guaranteed that an individual company will (GE?).
Kraft-Heinz / Myths
In response to a question about Kraft-Heinz (he said he is not in a position to give advice on KHC), Buffett started to talk about the problems caused by myths created about organizations. These myths can be handed down to the next CEO and on and on. This can lead to enormous errors. It happens all the time in business and goes beyond business. This is a possible topic for a future letter to shareholders, he said.
Munger added that when you prattle on all the time, you pound ideas back into your head even if it's wrong. One of his favorite quotes is by Sir Cedrick Hardwicke,
I have been a great actor for so long that I no longer know what I truly think on any subject.
Munger said it happens to a lot of people, and to virtually every politician. It is totally embedded in corporate world.
It makes you wonder what you are pounding into your head every day all the time, and what of those may actually be wrong. And it makes me wonder what the cases are that Buffett has in mind, and what they might have been at KHC (although we may guess it has to do with cost management etc.).
For me, two things stand out that I used to pound in my head early on but revised over the years. One was the aversion to technology investing driven by what Buffett always said. But I have sort of been more comfortable with technology. I would not have touched them in the 1990s (and didn't), but have been much more open to them.
The other thing is valuation. For a long time, I was also old-school valuation, looking at P/E ratios and things like that, and insisting on things below 20x P/E. But I quickly realized that there are not that many great companies at that kind of valuation, so I was more willing to pay up for businesses I really like. The way I tempered the risk and satisfied my aversion to high values was to simply not put too much money into expensive names. This allowed me to enjoy some decent growth while not having my P/L swing wildly every day. This is not a recent thing for me, this goes way back as I have been an early investor in CMG, for example.
The other one that is making me think hard right now is buy-and-hold forever. This is also one of those hard rules that a lot of us follow, although when things get really stupid, I do sell things. In a market like today, it makes you really think hard about everything you own.
This may not be exactly what Buffett is talking about with corporate myths, but these things popped up in my head when he talked about myths.
Anyway, as usual, if you have time, check out the replay. It is pretty good. Mostly t he usual stuff, but it's free to watch (and fun).