The Markets
OK, so let's talk about stocks. I will look into things a little more later, but for now, I will just let you guys know that not much has changed in my thinking. As long as the market is within what Buffett years ago called the "zone of reasonableness", I don't worry too much. Just focus on trees and forget about the forest. As for valuation, it sounds really silly for me to say this, but I stand by my statement I made years ago somewhere. I always said that if the long term growth rate of the economy is 2% and inflation is 2%, then 10-year treasuries would yield 4%. And if long term rates were 4%, then a stock market P/E of 25 is totally reasonable.
And yes, I know. this is laughable now. 2% inflation? Keep dreaming. BUT, the key is the long term rate, and that is still below 4% believe it or not, so my argument still holds. If long term rates stay in this area for the next 5, 10 years, then it would not be surprising to me at all if the average P/E over that period is around 25.
I understand this FED model has been debunked, criticized and whatnot, and some people say this analysis just cherry-pick certain time periods in history that this relationship held true. When I started in the business, long term rates were 7-8%, and P/E ratios were assumed to be fairly valued at around 14x. Now with long term rates at under 4%, a P/E ratio above 20x is not so strange to me. Buffett also said that with rates lower, P/E will be higher, so he also agrees to some extent with this model. I don't know if he will go 1-1 parity in the two, though.
This is not to say that I believe the fair value of the market is 25x. I have no idea what the fair value is. I am just saying that if relationships in the past hold, this is not unreasonable or surprising at all. Having said all of that, I don't mean to get into this debate all over again; we did it once in the past and my opinion really hasn't changed all that much.
The next question, then, becomes, is the long term rate of 4% reasonable? This, I have no idea about. But I am still anchored to that level. Why? Well, I do think a lot of the current inflation is sort of temporary. OK, maybe not as temporary as some of us thought, but I still do think it is caused by a bunch of one-off things, like Covid, Ukraine war, and minimum wages catching up after decades unchanged etc. But when you think about the demographics around the world, it is hard to imagine going back to higher growth and higher inflation. Of course, stagflation is always possible. But I don't know. I am not really feeling that.
So anyway, that's where I'm at in terms of looking at the stock market. I don't have any strong views either way, and things are in the general zone of reasonableness. Honestly, I only worry about a Japan 1989-type situation. But again, the market then took the P/E ratio up to 60-80x so that was a huge bubble. If things get that crazy in the U.S., of course, I would probably change my mind and get a little bearish. Even at 50x. But I don't worry when P/E's go up because earnings go down; those P/E's are meaningless… You have to look at it on a normalized basis, like what would companies earn in non-recessionary times etc.
Berkshire Hathaway Annual Meeting 2023
So, I still do watch the annual meeting every year on Youtube. They are fun to watch. But honestly, after reading Buffett for decades and watching these things, you know the answer to 99% of the questions asked before Buffett answers. The stories are fun, and Munger's comments are always fun. It is amazing how good they look at their ages.
I have nothing particularly interesting to say about this year's meeting, but one thing was interesting, and should be interesting to all of us smaller investors. Munger said it is just a lot harder to make money now with all the smart people getting into finance, trying to outperform each other and whatnot. But Buffett seemed to sort of disagree, saying that there is always something to do because people will always do stupid things. Munger said BRK can't perform like it used to because it is just harder with much more competition, but Buffett seemed to insist that their difficulty in putting up big numbers is simply due to their size; they can only invest in the biggest companies. He seemed to say that if he had smaller amounts, they would be able to do really well, as they will know where to look. Many years ago, when the market was expensive, he also said, remember, that with small amounts of money, he said he can do 50%/year no problem. Think about that. Where would he be looking now if he only had to manage, say $1 million?
And by the way, when Munger says there is a lot more competition, I think a lot of the real brains in the market focus on the really short term. If you are, as Munger says, engineers coming out of MIT, Carnegie-Mellon and whatnot, you are not picking stocks at Fidelity. You are writing algorithms at some quant fund. And those guys, as far as I know (and my knowledge may be dated), are very active traders. They are basically fighting for basis points against each other, so they don't compete with the rest of us. Who cares if someone comes in and picks you off for 2 bps when you are building a position to hold for, hopefully, 20 years. And they do this because of the math. Long term positions are not efficient on a return on capital basis. It is too capital intense. Even if you find a stock that will go up 20%/year, and you lever up, you are only going to get up to 40%/year, but the volatility of holding that position will kill you at that leverage. If you are a high frequency trader, you are trading positions that last from seconds to just a couple of days, so your overall 'risk' is tiny, and you are turning over your portfolio a lot, and making tiny amounts on each trade, but you make tons and tons of trades. That's like being the house at a casino. As far as I know, that's where the scientific / engineer type traders tend to end up. I know various quant firms have tried longer term models, but I am not really aware of any that have done well over time. I think I talked about why that is a while back. Anyway, back to the topic.
And keep in mind, despite all the competition, Buffett had no problem piling into AAPL, his biggest winning investment ever. It was all there, in plain sight. How about the Japanese trading companies? It was there for all to see, not even hiding under any rock. I was talking to a friend that runs a Japanese stock hedge fund, and we were both scratching our heads, what is this? Does he not understand that "return on capital" doesn't exist in Japanese management vocabulary? (Even though it is mentioned in company presentations and annual reports in Japan, I was talking to a Japanese M&A advisor the other day, and I said, the Japanese are getting hip to return on capital, so they don't do Rockefeller Center-type trophy buying anymore. But he said, no, that is not true at all. Things haven't changed, and people still buy overseas assets based on prestige, image and whatnot, and return on capital is never even mentioned.)
And yet, there is Buffett still making big winning bets, even with all that money he has to invest. I said long ago that if any of us were there with any of these great investors of the past, that we would probably have reacted the same way as when he bought AAPL. We would not have agreed. Can you imagine being Buffett's partner back then, and he puts all that capital into AMEX during the scandal? We would be like, are you nuts?!?! Reminds me of the Druckenmiller (alleged) statement, what's the difference between falling out of a 3rd floor window and a 100th floor window? (You're dead either way, so if you are going to swing for it, might as well go big!).
AI Mania
Yeah, this is the other thing that people won't stop talking about. In bars, cocktail parties etc. And as usual, nobody really knows what they are talking about. And the ones that think they actually know what they're talking about sound like they know less than the others, lol… We've seen all this before. I have a lot to say about it and have my own opinions, but at the end of the day, none of us know anything. I remember back in the internet bubble, people said this and that. The one thing they were right about was, the internet will change the world. But they were all wrong about just about everything else.
People talk about Nvidia as the shovel and buckets supplier. I like Nvidia, and I've owned some for a long time, but I am now worried about all this mania. Here is a look at a shovel and bucket supplier back in 2000. Look at this chart. It's CSCO. It traded up to close to $80/share, and peak EPS at the time was, I think, around $0.41, so that's an almost 200x P/E ratio. I remember even telling people, I have no idea who is going to win the internet wars, but CSCO is selling the ammo. I never bought or owned CSCO, but it was just the cool thing to say back then to show people you actually know what you're talking about. I remember saying this to a managing director on the trading floor at the time, and when I said that, his facial expression suddenly change, he went back to his desk and picked up the phone. I think he called his broker to buy CSCO stock, lol… I would have probably made a good broker.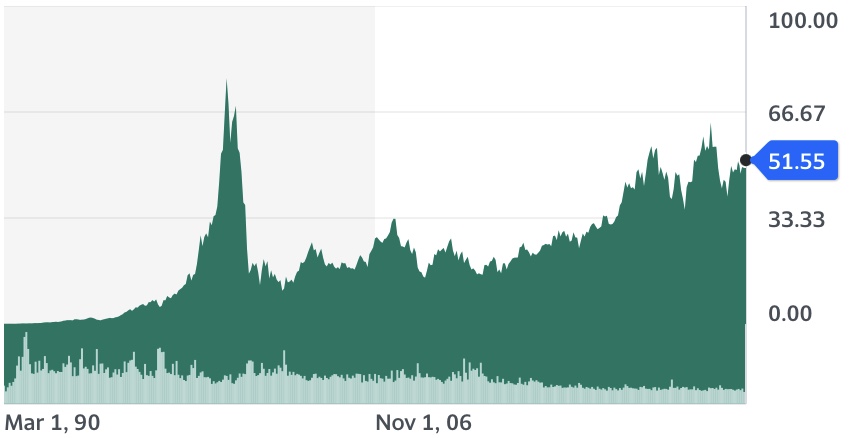 Anyway, as you can see above, CSCO topped out at close to $80, close to 200x P/E, and the prediction that the internet would change the world came true, but you didn't do too well. And you were right that CSCO was selling ammo. But you still didn't do well, and you are still underwater more than 20 years later. I think that's a loss of like 7%/year over 20+ years. Now, what if you paid 50x P/E instead of 200x? Then you would have had a return of around 5%/year (all of this excludes dividends. This is a free blog, so I can't be bothered to go look that up). Not great, but better than losing money!
So yes, valuations matter!
Moral of the story? You can be right that AI will change everything, but you can still lose money. You can be right that Nvidia is the backbone, primary seller of the most potent weapon in the whole thing, but you can still lose money. So, beware!!
As for AI changing the world, yes, it probably will. I was playing with ChatGPT early on, and also DALL-E and it is a little shocking, frankly. What this will do is it will destroy everything, every job, where "good enough is good enough". DALL-E will not replace the best artists, illustrators and whatnot. ChatGPT will not replace the best authors, writers, reporters etc. But where you don't need top quality, all of that work will be gone.
If you are a small nonprofit or small business, and you used to pay $300-500 for some simple illustration to a local artist, maybe now, you just go and create your own by telling DALL-E, hey, create me a poster with some people having a barbeque on the beach in the style of Andy Warhol, or some such. Done. In seconds. Same with writing copy. Even writing stories to promote your product. So easy.
Anyway, I have way more to say about this, but I just want to remind people that we've all seen this before. Yes, it may be bigger and different than anything in the past. But let's see. AI has also gone through cycles in the past; there is it's own boom/bust cycle. I remember expert systems back in the late 80s… neural nets in the 90s… things sort of come and go, and improve over cycles. We'll see how far this one goes.
What makes this one feel so different is just the magnitude of all the data that is now available. Back then, there wasn't all that much data, but now, since everything has been digitized, it's all there. We now have the capacity to store that stuff. We have the capacity to process and analyze all that data. It is mind-boggling for sure.
But don't forget, in the 1800s, I think 90% of Americans were farmers (or lived on farms), but now it's like 1%. So entire categories of work can just disappear. It happens, and we get through it. OK, so we had some wars and depressions on our way to 1%. But we made it. We're here!
And I keep reminding people first, that AI is not new. It's been a big part of Google, Amazon and many financial companies for a long time. And also, it's not just AI that is changing the world. Things like this are happening under the radar all the time.
Like, say, web developers. Back in the 90s, if you knew html / css (I didn't), you were really cool. You can learn this stuff over a weekend, and if you knew how to put up a website, you had work. And then suddenly comes things like WordPress and other do-it-yourself web services. Suddenly, if you only knew html/css/js, you were useless (well, unless you are actually an artist / designer; those people still get work, but a LOT less now as you can get free 'themes' now almost anywhere).
Look at all those tacky "build your own logo" sites. I've tried to use them but honestly, I've never come up with anything all that useful. But I do see a lot of stuff out there that I suspect comes from that.
And check out things like Canva. You don't need to be a trained graphic designer or proficient Adobe user. Just log onto Canva, and you can do professional-looking flyers, posters, business cards, in seconds, literally. That wipes out a bunch of lower-end graphic designer businesses. Completely gone. We don't need you. Just like that.
Not to mention how many jobs/industry the iPhone single-handedly wipes out. Alarm clocks? GPS/Car navigation? Maps? It's crazy. And it's been happening for years.
Anyway, this is a huge topic, and I have much more to say about it, but I will stop now and will come back to some of the above stuff later.
I just wanted to get this out, a post that is not just about my migration, but actually about stocks and stuff like that.
Oh, and by the way, some of you have asked to be put on an email list, but for now, I have no email list. I was going to add one in this WP site with a plugin, but it seems like a lot of the free tranche stuff is gone, and a lot of them charge money now if you have more than 1000 subscribers etc.
Which makes me come back to Substack, which someone suggested on my Twitter feed. Substack is actually totally free for as many subscribers as you want. But that is sort of also a closed system which I tend to not like (I like to be able to go under the hood and write my own code etc. have full control). But I may just create a Substack account and use it for email notifications when I make a new post here. I already do that on Twitter, so please check out my Twitter account (all I ever post are announcements of new posts). I will add a social media link in the footer here later…
Thanks for reading!