Value Funds
Holy cow, I haven't been reading or keeping up with much in the value investing world. As part of my catch up, I plan on reading letters from the various value funds and things like that. One of the first ones, of course, was Sequoia Fund, and I was shocked at how poorly they are doing. I know that in the zero interest rate world, everyone suffered. But this is worse than I thought. I know Sequoia had that Valeant fiasco, but even without that (that happened in 2016?), the dramatic underperformance seems to continue.
I remember once saying that if I was going to go on a mission to Mars and I had to keep my money in some fund, I did say I would put money in Tweedy Browne Value. Over time, I admit I became less and less interested in any funds because as expected returns came down to, say, 4-6%/year, the 1% management fee starts to look like a hedge fund incentive fee, but they get it no matter what (1% of 4% is 25%!!). So I don't own any funds (except an old 401K where I don't have much choice), and wouldn't own any. I tell people to just get out of active funds and roll them into the S&P 500, and the reasons are what Bogle has always said: people won't outperform, and even if they do, the fees are hard to justify. I probably made a Bogle-head post here a while back. I wrote an investment plan for a non-profit not too long ago, and the main point was to avoid fees at all costs.
Take a look at some of these figures. They are kind of terrible. I don't mean to pick on anyone; I'm just looking around and making honest comments about what I observe. These are just the first two funds that came to mind when I wanted to read what they were up to.
And, by the way, for the younger readers who may not know who these guys are, they are some of the so-called Superinvestors (from Buffett's Superinvestors of Graham and Doddsville essay), and the two that are still active now. I put their performance numbers up so check it out, how Super they once were: Superinvestor returns
Sequoia Fund Performance
Tweedy Browne Value Fund Performance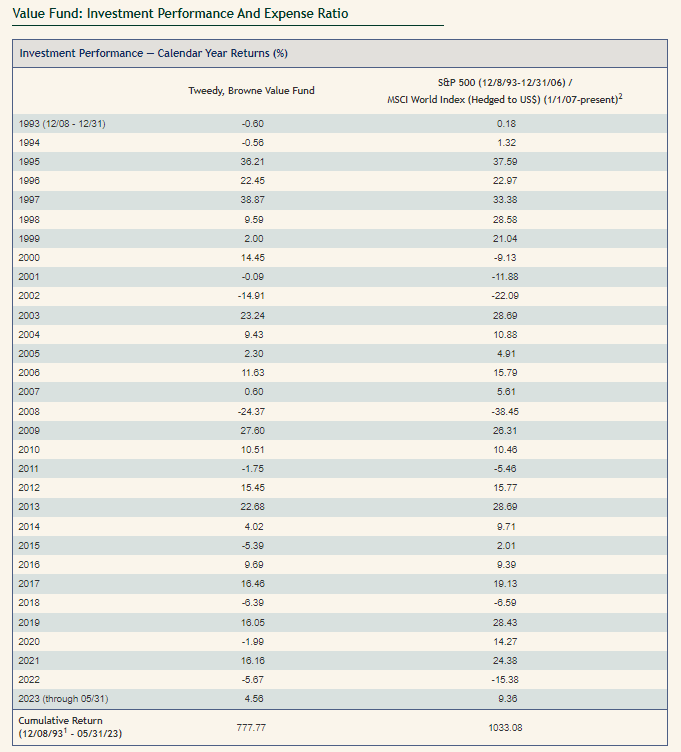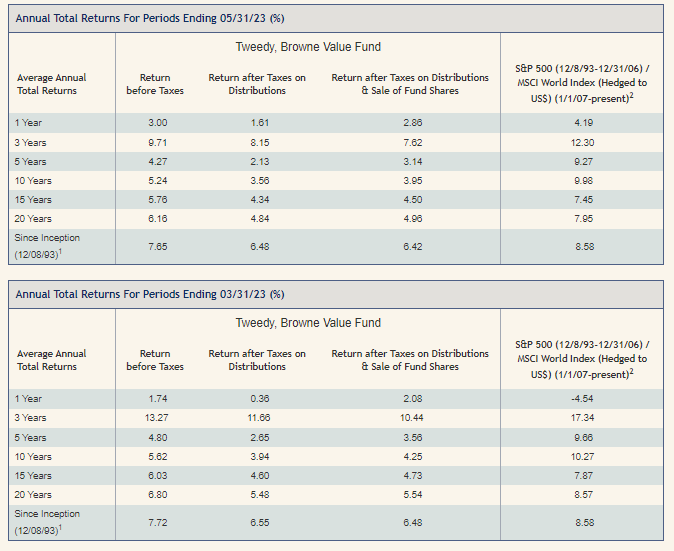 Berkshire Hathaway
Value investing sort of looks broken when you see those Superinvestors, but let's take a look at BRK. Remember, many said that BRK won't outperform anymore, or even if it does, not by much.
Check out the 1, 2, 3, 5, 10, 20-year and since 1993 charts. I haven't updated any of my BRK BPS tables or anything, so this is just a lazy way to check. I just compare BRK-A's stock price to the SP 500 total return index over these various time periods.
BRK 1 year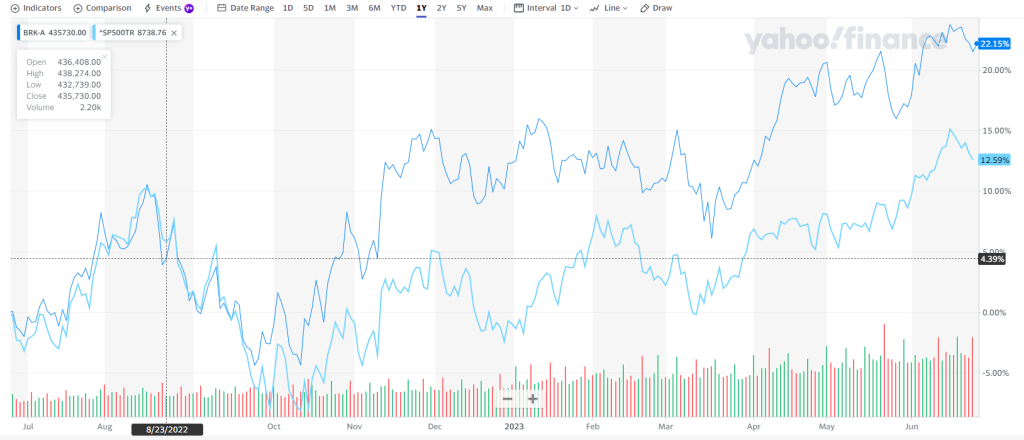 BRK 2 year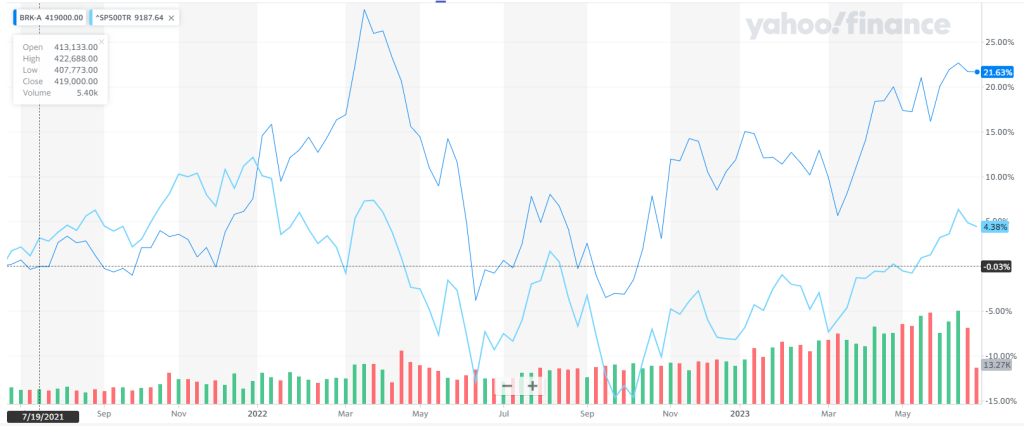 BRK 3 year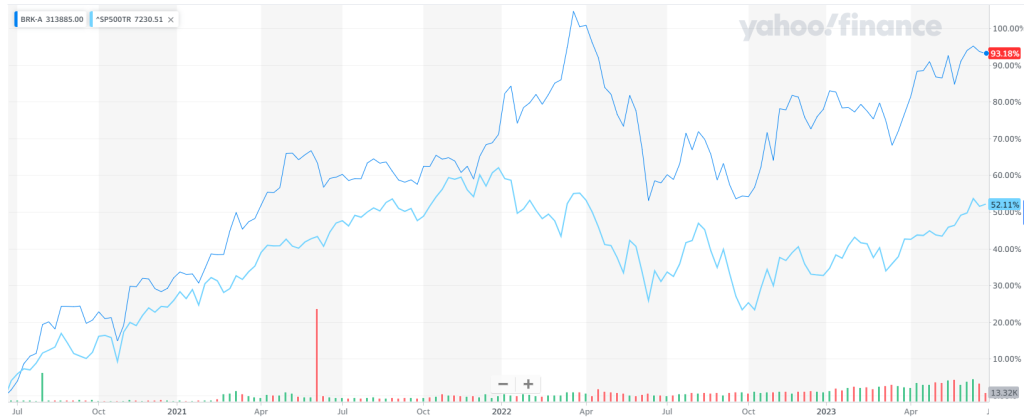 BRK 5 year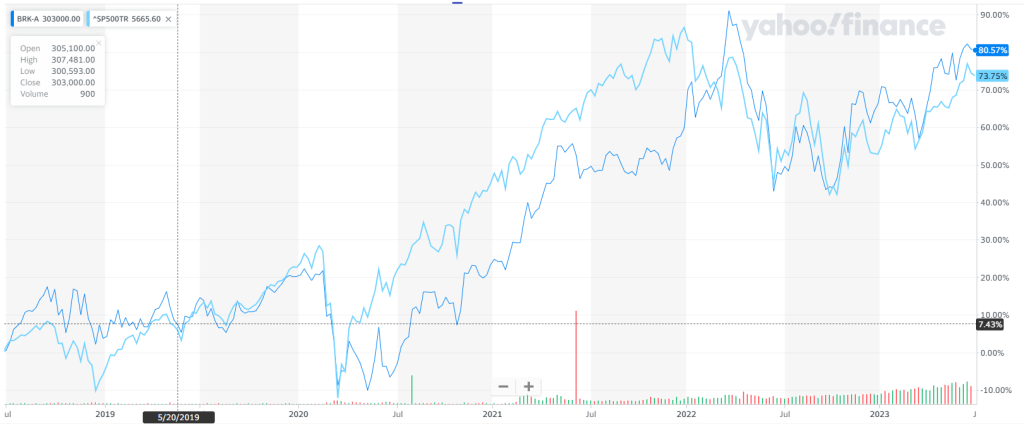 BRK 10 year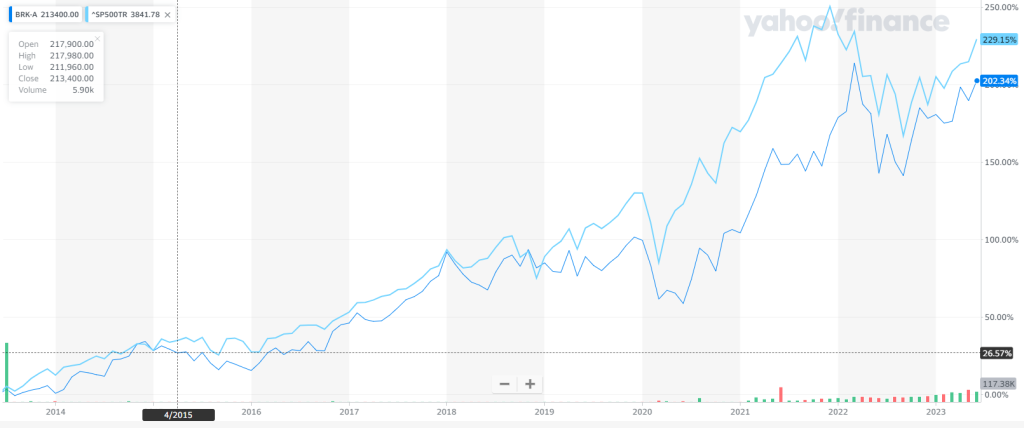 BRK 20 year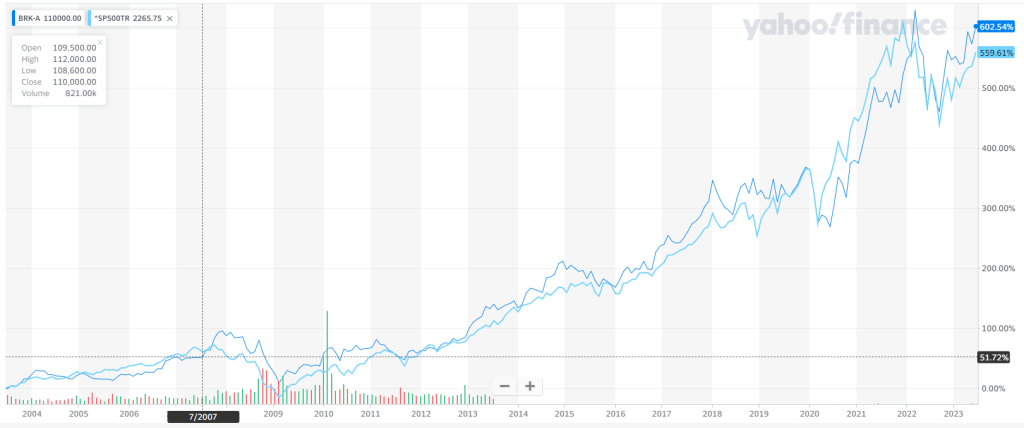 BRK since 1993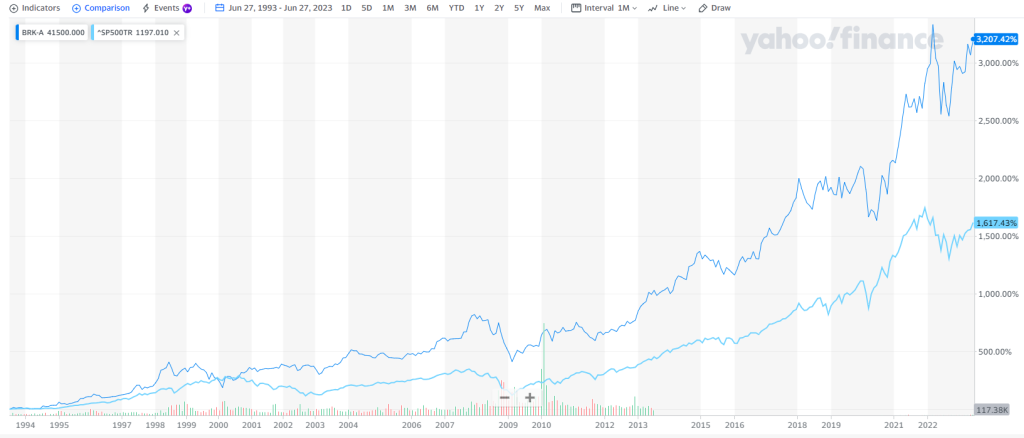 So you see, BRK outperforms in 1,2 3, 5, 20, and since 1993. The only period it doesn't outperform is 10 years. You may get different results due to different start / end points. I just did these against today.
Is Value Investing Dead?
So this begs the question, is value investing really dead? If so, how is BRK doing so well? First of all, we have to remember that Buffett ditched the old, conventional concept of value investing years ago, at least in the 1980's, if not the 70's. He said Munger taught him that, to pay up for quality. Over the years, whenever asked about value investing, he always said something about value and growth joined at the hip, so you can't discuss one or the other independently. He basically dismisses the whole idea of separating out value investing vs. growth investing.
I don't think value investing is dead, nor do I think value investing has changed all that much in concept. The idea that things have intrinsic values and that you should buy things below that level will never go away. The concept of what constitutes value, though, may evolve.
Alternative Hypothesis
Instead of saying that value investing is dead, or that it no longer works, how about thinking about it this way? First of all, I have to admit to being baffled over the years at various value funds just getting out of the market or raising a lot of cash, even when they say the don't want to try to time the market. What is raising a lot of cash if not timing the market? OK, so they say this is not timing the market, but pricing it. What if their pricing concept is wrong?
I got into the markets back in the 80s, and interest rates were 7-8%, and the idea of a fair value of the stock market was around 14x. This was the historical P/E ratio, and Black Monday taught us all that a P/E over 20x is bubble territory and dangerous (this was confirmed by looking at the P/E ratio in 1929). I think I mentioned on this blog years ago that when our house economist in the early 90's told us that the Fed funds rate (then around 8%) would go down to as low as 4%, we all laughed at him. Some said we should fire him as he has completely lost his mind. Let that sink in for a second.
So with interest rates at 7-8%, we thought 14x P/E was sort of the norm for the market. By the way, the Fed funds rate should not determine the fair value of the stock market at all. So I don't get why pundits are saying "if FF rate hikes stop here, then xxx, if they go up 50 more bps, then yyy". What difference does it make? I look at the 10-year treasuries yields. That is sort of the global benchmark for pricing assets. Again, this just goes back to keeping your eye on the North star or lighthouse ahead, and ignoring the waves (FF rates) nearby.
OK, so where is this going? What if the fair value of the market went up as rates came down? I think most people agree that asset prices are dependent on interest rates. Buffett has said so too, even in recent years. So if interest rates are far lower now than they were when I first started in the business, then it makes sense to assume that the fair market value of the stock market is far higher than it was back then.
I already argued that I think the market is fine even at 25x P/E, as long as interest rates (long end) is around 4% (it is still below that).
And interest rates have been far lower for decades since I started, and the stock market has been much more expensive in all that time. I don't find that to be a coincidence.
Now, here is where I dig into the value funds. I haven't looked at their holdings and analyzed why some of these funds have performed poorly. But hear me out.
A long time ago, I may have mentioned this here too before, but a quant friend of mine was doing all sorts of studies, and he also looked at price-to-book value ratios in Japan (he was based in Japan). And what he found was that the P/B ratio was highly and inversely correlated with credit quality. In other words, low P/B companies just had bad credit and vice versa. So if you created a low P/B ratio portfolio, you just had a lot of credit risk, so from that point of view, you weren't really getting any 'value'.
It's like buying a junk bond yielding 9%. Looks great! But is that really value? Could be, but you can't be sure.
Bond Fund Example
OK, so hear me out. Stay with me. This is not a great analogy, but it sort of illustrates what I am trying to say. Let's say you are a high yield portfolio manager, and you started investing in the 80's and 90's. Well, you are trained to demand double-digit yields on any junk bond. Right? That makes sense. I often heard those guy say that you get an 'equity-like' yield. Yes, 10%, 12%, that's like equity-like returns. OK, so that's in a 7-8% treasury yield world. So your credit spread is like 300 bps, 400bps, 500bps. Right?
Now, for the next few decades, interest rates keep going down. At 5%, you still insist on equity-like returns because you are taking so much risk. But if you are demanding 10% yield, that's a credit spread of 500-700 bps. Now, if you don't adjust for lower long term rates, and are anchored to expecting 10% yield, what happens to your portfolio?
Exactly. The credit quality of your portfolio is going to start to deteriorate. Now long term rates go down to 4%. You still want 10%. Now your portfolio is filled with crap that has a 600-800 bps credit spread. So you are sort of holding a portfolio that is a lot crappier than it was when long rates were 8%. You are talking about a credit spread going from 200-300 bps to 600-800 bps. That's kind of nuts.
And imagine, the portfolio starts to see a lot more defaults, and doesn't perform well. And the managers complain, they don't make junk bonds like they used to! Get Milken back in the business, godammit! Well, did the market really change? Or did the portfolio quality just deteriorate over time due to the actions of the manager?
Now, in reality, this probably hasn't happened. I think in credit markets, people do trade off of spreads and not really nominal rates.
Do Stock Investors Unknowingly Do This?
I think they do. When rates are 8% and the market P/E is 14x, and you find a great stock at 10x P/E, that's great. But when rates are 4% and the market is at 20x, can you really find anything decent for 10x P/E? Or do you have to sacrifice a lot of growth and/or quality to do that?
I have a nagging sense, from watching value investors over the years (again, not so closely in recent years), that this has always been the case. They couldn't accept such high valuations, even though the rate structure was very different than it used to be. They refused to evolve. They were anchored to their old view that the market should be fairly valued at around 14x, or maybe it's 16x nowadays.
I don't own any AAPL (except indirectly via BRK), but that's trading at 30x P/E, which seems nuts if you are still anchored to the 80's and 90's. But if you accept a 25x P/E for the market overall, then a 30x P/E is only a slight premium to that. Right? But I bet you won't find any value investors that would agree with this.
And I am only proposing that, maybe, just maybe, it's not that value investing is dead. It's just that many of us are still anchored to old benchmarks that haven't been relevant in decades.
Now, I know defending high prices is always risky, lol… You are always at the risk of making the Irving Fisher "permanent plateau" comment.
And I also agree, there is a limit to this argument. I would never say (and didn't say) the market is fairly valued at 100x P/E with long term rates at 1%. Globally, stock and real estate prices tend to stop chasing yields down when it gets below 3-4%, as people will just not accept risk at yields below that for 'risk' assets.
But anyway, this is sort of the feeling I get having watched investors over the years.
Also, by the way, this also begs the question of how much culture is going to matter in the investing world. I think nothing has probably changed at Tweedy Browne, as some of the older partners are still there. But the Sequoia Fund hand-off is not looking too good. I know we are all long-term investors, so it may be too soon to make judgements about any of this, as recent years have been extraordinary (but some will argue it's always extraordinary).
I remember watching the Michael Jordan documentary and someone said something about building the team and the culture at the Chicago Bulls that goes beyond just one player. Well, I think it's obvious now that this one player was a huge part of it.
This does not bode well for the post-Buffett, post-Munger world. Is it Buffett? Or is it BRK's culture. I would tend to argue, like the Chicago Bulls and Jordan, it's Buffett / Munger. But the good thing about BRK is that it's not just about investing in stocks. It's a bunch of operating businesses too so there may be talent on the operating side that can continue to do well and add value to BRK, so I would not be as worried about BRK as I would be about a mutual fund.
Anyway…
This was just a quick post I thought I'd make as some of these above points have been nagging at me for years, and seeing how poorly some funds have been doing lately prompted me to make it. Value investing is not dead (I am not talking about value vs. growth). Some investors with outdated assumptions due to 'anchoring' might have ruined the performance of their funds, but it's not that value investing doesn't work anymore, I don't think. IT guys call this "user error"; there is nothing wrong with the machine!
But still, this is just an idea. What if we are all wrong? When something goes wrong, as many IT guys know, we are quick to blame the machine but sometimes won't consider that we are doing something wrong.
This is not meant to be a definitive, this is what's happening, this is why funds aren't performing answer. It's just a possibility that we might want to consider.