OK, so you guys can laugh at me. Having said what I said in the other post (you would have to sacrifice a lot to find a 10x P/E stock in a 20 P/E world), here are some really good companies for 10x P/E. I didn't write the last post to set this one up or anything like that. As you guys know, I have followed these companies for years and have a high level of comfort, familiarity with them. Of all the industries I talk about, I am probably most comfortable with financials, since that's where I come from.
And for those who say value stocks have just been left behind because of the tech bubble, have a look at the 10-year performance of JPM. From JPM's annual report, the stock has returned 14.9%/year in the past 10 years vs. 12.6%/year for the S&P 500 index. It has also outperformed nicely since 2000 and 2004.
And look at tangible book value per share growth since 2004 for JPM; 9%/year!
This amazing company can be had for 11x P/E. I know, it's a bank / financial, and they don't get great valuations, especially post financial crisis.
Also, I think people may worry about a post-Dimon JPM. I think it is well managed, and this is not a hedge fund or mutual fund, so you don't need unique, one-in-a-billion talent to run it well. But it's also true that Dimon is just really, really good. He has a really good shit-detector, and can smell risk from very far away. People who worked at Salomon Smith Barney way back when told me stories about how Dimon would just beeline right to someone on a trading desk and shut people down completely *before* things blew up. I heard about these things at the time, and everyone who came across Dimon thought he was really good. You can't bullshit your way to holding onto bullshit positions or bullshit strategy. I worked in a department where we had some of those bullshit businesses, but management would typically not pull the plug until it blows up. Why? Because as long as it's making money, people want to let it run, even if it really makes no sense. Their feeling is, let them do it, if it blows up, we just fire them. But take the money and shut up in the meantime. Dimon would never let that happen. This is why he has lasted so long, of course.
Yeah, Dimon had his tempest in a teapot moment, but that was a minor event given JPM's size.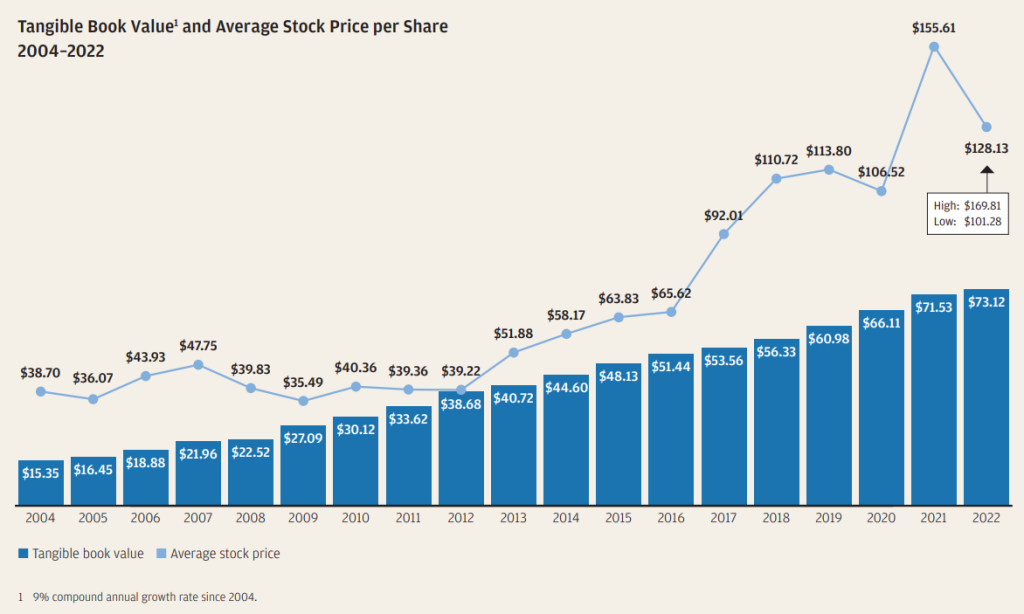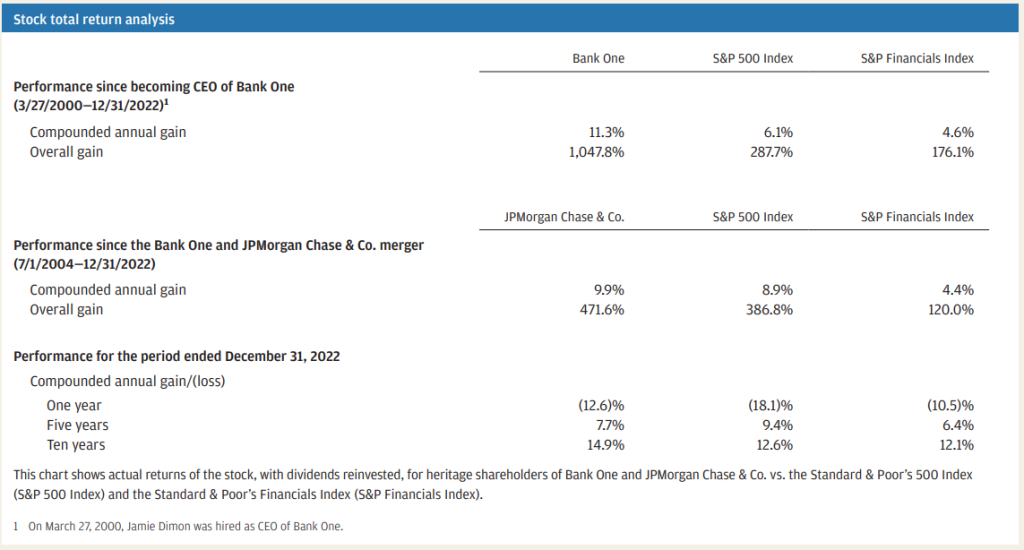 Also, these days, Dimon's letter to shareholders are probably more important than even Buffett's. Also, check out their investor day. It's really a great company.
Oh yeah, and I'm not too into these macro analysis, but if you don't know, JPM publishes a really good Guide to the Markets. Check it out. I browse through it now and then.
GS
Here's another quality business trading at 10x (forward) earnings. I've written positively about this in the past, and Buffett owned a chunk for a while after getting a piece during the financial crisis. Back then, he said every bone in his body tells him that GS will make tons of money going forward. He has since dumped it. My guess is that he feels GS can't make money like it used to post-crisis due to the new regulations. The quality of the people, I don't think, hasn't changed all that much.
OK, so the current CEO is getting a lot of heat, and their consumer banking business is not looking too good. But isn't that sort of the time we value investors have to be looking at things? Sometimes stocks are most expensive when they are doing really well. But when you have temporary, fixable problems that may impact earnings, it can be a time to take a close look.
I don't know how AI and fintech is going to impact this business, except to say that GS uses a lot of AI and tech. But investment banking doesn't really seem to be an area that is being taken over by AI or iPhone apps. Same with Asset and Wealth management. Indexing and ETF's already sort of did to active fund management what AI will do to other professional skills. And I don't know that AI will ever outperform indexes and low cost ETFs.
Anyway, David Solomon doesn't seem to be on the level of, say, Lloyd Blankfein, but GS hasn't been doing that terribly. From their investor day / annual report, check out some of these figures.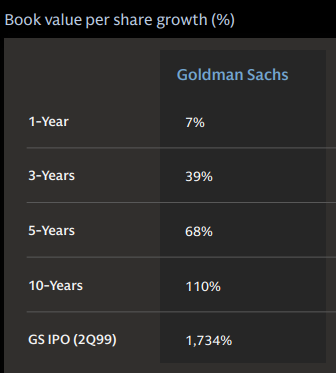 The above book value per share growth annualizes to 11.6%/year for the past 3 years, 10.9%/year for the past 5 years, 7.7%/year for the past 10 years and 13.5%/year since 1999.
And keep in mind that 2022 was a bad year; the market was down, with war, inflation up, bonds tanking, so it was sort of a stress test for the markets and financial industry and GS was able to make money and even earn double-digit ROE in that environment. There is no reason why they won't be able to achieve their goals over time.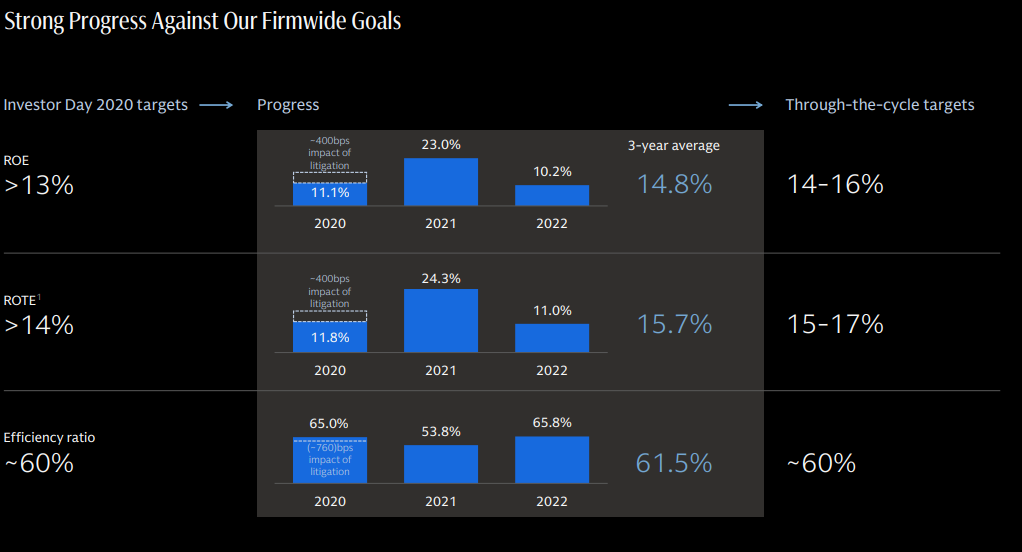 Similar to JPM, I've had interactions with GS people in the past, and even recently. I was out with a GS employee recently and I asked about the culture and whatnot, and he said it's still exactly as I described it. I told him that in the old days, GS walked away with a deal very often because when GS did client visits, they did it as one team. They are still compensated for their contributions to the 'partnership', not for maximizing profits for their own department or desk. Whereas, at other firms, different departments did client visits separately and actually competed against each other, even dissing each other, explaining why, say, a client shouldn't work with the equity financing division etc. I've also been sucked into bitter turf wars between departments, and it is really a stupid waste of time.
And whenever GS people quit and went to other firms, they were often shocked at how casual people were… During lunch, traders would gather around a TV set to watch sports or play games. At GS, there is no such 'relaxing'; the vibe is to always be working. No putting up March Madness pools on the white board in the meeting room, no liars poker playing. No horsing around. Just work. Lunch time? Phones aren't ringing as the market is slow? GS people still sit and work.
So they probably still have the smartest people around, and they probably all still work very hard (or at least when they are not DJ'ing). As I said in the past comparing, say, gold or bitcoin to a GS, if you own GS, it's nice to know that the smartest people on the planet get up every morning and go to work (or work from home) and spend all their time trying to figure out how to make you richer. That's not a bad feeling.
And the great thing here is that not only is this stock trading at 10x P/E, it's trading at around book. OK, so that just means their ROE is not all that high right now. GS traded at over 2x book as recently as 2006-2007, but their ROE was 20-30% back then.
So this is not a story about buying something at book hoping it will trade up to 2x book. It's more of a story about being able to buy something at book value when they have achieved, even in the 'bad' years, double-digit ROE, and management goal is a credible 14-16%.
With bond yields at under 4% and the stock market at over 20x P/E, being able to buy into something like GS, with the quality of their employees, management and culture, for book value, where they aim to earn 14-16% on that book, is pretty exciting, no?
I know some people still may have a negative image of GS from the financial crisis, but I personally never really had any issues with GS. Sure, the entire industry got carried away in various areas, but I don't think GS was ever as evil as the press has made out (vampire squid).